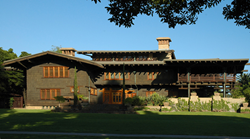 A van rental is very often the most pleasant, and most cost-effective, way for a group to visit one or several notable destinations.
Los Angeles, California (PRWEB) September 07, 2017
An August 30 slideshow on USA Today offers 25 striking, as well as historically and architecturally noteworthy, buildings located around California, from the world famous Disney Concert Hall in Downtown Los Angeles and the Gamble House in Pasadena, to the legendary Hearst Castle in San Simeon, San Francisco's Transamerica Building, and the Monterey Bay Aquarium. Los Angeles based agency Van Rental Center notes that, whether a group is interested in historic architecture, the best in art museums, or theater and music events, California offers a nearly endless array of cultural destinations that a group can visit. The rental agency also notes that a van rental is very often the most pleasant, and most cost-effective, way for a group to visit one or several notable destinations.
Whether groups are in need of a 7, 8, 11, 12, or 15 passenger van to accommodate them, Van Rental Center notes that there are multiple vehicle options for arts clubs, music aficionados (or actual musicians), church groups, and other artistic and culturally motivated formal or informal groups who want to head off to one or more locations throughout the state of California. The agency points out that vans are an excellent way for passengers to enjoy the sights as they travel on the highway. It also notes that it offers an efficient and comfortable way to take a group to a destination that may require a several hours long drive, and that their vans are well equipped in terms of extras to make the rides more comfortable. Whether the trip involves driving up to Monterey to see the historic Cannery Row area made famous by author John Steinbeck, or down to San Diego to visit the legendary Hotel Coronado featured in the classic film comedy "Some Like it Hot," or a group is just aiming to visit a number of landmarks throughout Southern, Central, or Northern California, selecting a multi-passenger van is a travel solution that truly makes sense, says the agency.
Van Rental Center says that, whatever kind of trips groups or families are arranging, an outstanding selection of first-rate vehicles as well as genuinely outstanding customer service that takes the needs of drivers and passengers seriously, are always crucial for ensuring a smooth and pleasant trip. The agency adds that it offers pick up locations in Los Angeles, Orange County, Burbank and numerous other spots around California and the west.
Readers who are interested in finding out more about what Van Rental Center has to offer may call (310) 568-8230. Readers are also invited to visit the agency's web site at http://www.VanRentalCenter.com.