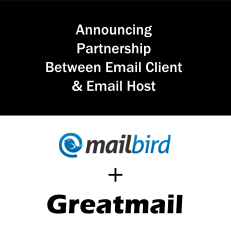 Mailbird is a perfect fit for many of our customers who have been using webmail applications and are looking for a reasonably priced, full featured email client.
Austin, TX (PRWEB) September 01, 2017
Business email hosting provider Greatmail LLC has recently partnered with Mailbird giving users an option to download Mailbird's award winning email client when signing up for Greatmail's email service or through its marketplace.
As an email host, Greatmail focuses on helping businesses of all sizes in setting up and transitioning from both in-house and other hosted email solutions. In recent years, the company has observed increased demand for alternative mail client applications. "Mailbird is a perfect fit for many of our customers who have been using webmail applications and are looking for a reasonably priced, full featured email client," says company spokesperson Ryan Hess.
Designed to enhance the end user's email experience and improve message management, Mailbird allows for customization and personalization of the email client interface and integration of third party applications like Dropbox, Evernote, WhatsApp, Veeting and more. Productivity features include an email speed reader, unified inbox, folders/labels, snooze, touchscreen support, and shortcuts.
Supporting the latest encryption protocols, Mailbird provides secure message handling between the server and client. Sharing Greatmail's position on privacy, Mailbird respects the privacy of its users and never scans the content of messages or other personal information.
Mailbird is available in both free and professional versions with annual and lifetime purchasing options. The free version allows for one mailbox to be configured per installation while the professional version supports multiple accounts and advanced features.
"Our customers appreciate having options, and our marketplace puts best in class applications like Mailbird in the spotlight," says Hess. The Greatmail Marketplace features high quality software and service providers in the following areas: AV/Security, Email Clients, Websites, Domain Names, File Storage and Office Suites. The company plans to add WordPress Hosting, Video Conferencing and Remote Desktop providers and user reviews in the coming months.
Greatmail has provided email hosting since 2003 and is used by businesses ranging from small start-ups to medium businesses and large enterprises. Greatmail comes in two editions: Standard and Groupware. Standard Edition provides IMAP and POP3 email hosting while Groupware adds synchronization and sharing of calendars and contacts using Exchange ActiveSync and CalDAV/CardDAV protocols. The company also offers advanced services like Hosted Exchange, Hybrid Exchange, SMTP Hosting for marketing and transactional sending and LAMP web hosting.
Greatmail's POP3/IMAP email hosting is a fully managed solution and includes email addresses at your own domains, antivirus and spam protection, web based administration, support for desktop applications like Mailbird, Apple Mail, Thunderbird and Outlook, SSL/TLS encryption and compatibility with iOS, Android and BlackBerry mobile platforms. Greatmail's private cloud infrastructure is audited and compliant with AT101 SOC2 Type 2 standards.
The monthly cost to host email at Greatmail varies from $1 to $2.50 per mailbox depending on storage and features. Activating an email hosting plan requires a minimum of 15 mailboxes. Resellers and businesses with over 400 mailboxes qualify for discounted pricing.
US based Greatmail is headquartered in Austin, TX with data center locations in North America and Europe.
For more information about business email hosting, please visit us at Greatmail.com.