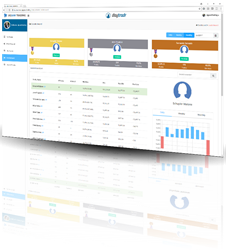 More people than ever are looking to trading as a path to additional income. They buy tools, they open accounts but they never trade live.
CHICAGO, ILLINOIS (PRWEB) September 07, 2017
As their new 'daytradr' platform goes on sale today, Jigsaw Trading are releasing the results of an internal survey that highlights a number of challenges that retail traders face. Issues that Jigsaw feel have been neglected by existing trading platform providers.
The statistics are startling. In the poll, 20% of traders admitted to have been looking at trading for more than 10 years, 34% were at 6-9 years, 30% at 2-5 years and the rest below 3 years. With all those years invested, it is shocking that 82% of those people are still losing money. Peter Davies, CEO of Jigsaw Trading commented "So far this year, I have met 3 traders that are still not profitable after 20 years, it is heartbreaking when you think about all that time and effort with no reward".
Jigsaw believe these numbers indicate a problem in the industry. That if trading products were 'fit for purpose', then more traders would be successful.
"We see new trading platforms coming to market every year– but they all do the same thing. There's no real innovation. These platforms do nothing to alleviate the fact that the large majority of retail traders lose money" Said Peter.
Peter added that the traders themselves have their fair share of responsibility. 77% of traders responded that they don't track their performance at all. They can't tell if changes they made improved their performance or not."
Jigsaw are challenging the trading platform industry to specifically address the issues of failing traders, with a unique combination of products and services to keep the trader developing, accountable to themselves and others and fully engaged in their own development.
Based on functionality in their popular 'add-on' for a number of retail trading platforms (with a user base of 4,500 traders), Jigsaw have taken things to the next level with their feature-rich 'daytradr' platform. A highly functional, yet simple to use platform that has already got the attention of a number of professional trading firms.
Education packages are based on proprietary trading firm techniques. From a basic free course to an institutional course created by a London Prop Firm, traders can mix and match to create a package focusing on areas they feel they are lacking.
Automated 'forced' journaling keeps traders honest (to themselves), trade results are stored on line and statistics are available so traders can objectively analyze their progress. For those seeking funding, real-time trading results can be shared electronically with prop firm recruiters and hedge fund managers.
Accountability comes by way of Jigsaw's unique trader leaderboard, showing traders how they rank next to their peers. It introduces healthy competition but doesn't encourage wild trading as traders are ranked by consistency before profitability. There's monthly prizes for best and most improved traders, so there's always something 'on the line', even for those trading a demo account.
Connection to fellow traders is achieved via the free Jigsaw chat room. It's open daily and brings traders together to discuss trades and techniques but most of all it's a place where traders experience a little camaraderie and support.
Jigsaw believe that each of these components are as important as each other. That too much focus on technique in trading products gives traders tunnel-vision. The new Jigsaw 'daytradr' suite does indeed offer a vastly different experience to anything currently on the market. Tools and techniques are just part of what makes a successful trader. Community, discipline and accountability are at least as important. Kudos to Jigsaw for understanding that and addressing it in their products.