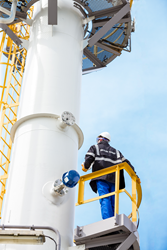 METTLER TOLEDO Gas Analytics announces the launch of its cross-pipe GPro 500 TDL gas analyzer.
Urdorf, Switzerland (PRWEB) October 16, 2017
METTLER TOLEDO Gas Analytics announces the launch of its cross-pipe GPro 500 TDL gas analyzer.
Due to their in situ placement, low maintenance and no requirement for sample extraction and conditioning (in many applications), TDL gas analyzers are rapidly replacing other gas measurement technologies such as paramagnetic analyzers and NDIR.
Most TDLs consist of two parts, a laser source and separate receiver with a photodiode that analyzes the laser light after it has passed through the gas sample. An issue with TDL sensors has been the requirement for maintaining very accurate alignment between the two parts. On the other hand, TDL designs with laser and sensor elements placed across the stack are appreciated when wider stacks cause differences in concentration across the diameter.
METTLER TOLEDO's GPro 500 series of TDLs solves the alignment issue by combining both parts into a single unit. A probe attached to the sensor features a corner cube at its end that redirects the laser beam back to the sensor; therefore, loss of alignment is not possible.
The probe concept is highly reliable in stacks with a diameter of less than one meter. For wider stacks where gas concentration is not constant, METTLER TOLEDO has now introduced the Cross-Pipe GPro 500, thereby extending the application coverage of its successful GPro 500 family.
A newly developed, two-dimensional corner cube array is positioned in the pipe, opposite the analyzer head. Exact alignment is not required. As long as there is a straight path between the two parts, the laser will hit the array and the beam will be directed back to the photodiode in the analyzer.
"The addition of the cross-pipe version will be a huge advantage to chemical and petrochem companies," says Jean-Nic Adami, Head of METTLER TOLEDO Gas Analytics. "With TDLs, maintaining alignment in stacks that warp due to changes in process temperature has been a major challenge. On top of that, TDLs usually require verification in a lab. The Cross-Pipe GPro 500 uses the same on-site verification concept as all other analyzers in the family and thus provides a simple, elegant solution to a number of validation problems."
For more information on the GPro 500, contact: joanna.peplak(at)mt(dot)com, or visit: http://www.mt.com/Pro-gas.
About METTLER TOLEDO Process Analytics
METTLER TOLEDO's Process Analytics division develops and manufactures instrumentation and sensors used for process measurement and control, offering measurements of pH, dissolved and gaseous oxygen, dissolved ozone, turbidity, oxygen reduction potential, resistivity/conductivity, total organic carbon and flow. METTLER TOLEDO Process Analytics consists of two business units, Ingold and Thornton, whose products are commonly used in industries such as:

Pharmaceuticals and biotechnology
Chemical process and refining industries
Brewing, food and beverage production
Power and steam generation plants
Microelectronics manufacturing
For additional information, visit http://www.mt.com/pro.