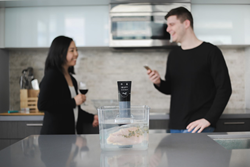 With Nise Wave, busy people…even those who don't consider themselves that good in the kitchen…can master one of the most popular cooking methods to prepare their own gourmet meals at home.
Toronto, Ontario (PRWEB) September 01, 2017
After completing a strong crowdfunding campaign on Kickstarter, raising more than $292,000, presales of Nise Tech's new Nise Wave automated Wi-Fi sous vide cooking device have now transitioned to the crowdfunding website Indiegogo InDemand.
"We appreciate all the support we received from foodies on Kickstarter, which also validated that there's a need for a food preparation product like ours on the market today," said Nise Tech CEO Rayner Mendes. "With Nise Wave, busy people…even those who don't consider themselves that good in the kitchen…can master one of the most popular cooking methods to prepare their own gourmet meals at home."
The Nise Wave is an automated high-tech personal chef that can transform any pot of water into a precision cooking device using the sous vide method – in which the food is sealed in a plastic bag and placed in a water bath that can be set to hold a target temperature to within a degree or two, then eaten when the food reaches the target temperature and/or time.
By applying smart algorithms to allow users to schedule the exact time they would like to eat, Nise Wave offers the first 'set it and forget it' functionality for the sous vide technique in the food industry.
"Nise Wave is ideal for any busy person or family that wants gourmet food and can't afford going to a fine restaurant every night to eat chef-quality meals," Mendes said. "With the automated Nise Wave, they can have a fine breakfast waiting for them in the morning, or program the device to have a gourmet dinner entrée when they arrive home from work at night – and they don't have to be expert chefs to do it."
Nise Wave's Wi-Fi-enabled, fully-automated process is controlled by a mobile app from anywhere. Using a patented adaptive temperature system, Nise Wave schedules readiness timing by intermittently raising and lowering temperatures throughout key cooking cycles. So, if rush-hour traffic slows a user down, they can postpone the final phase and still arrive home to a perfectly cooked meal.
Nise Wave is also the most affordable Wi-Fi sous vide on the market with early bird crowdfunding pricing starting at $129, a 40 percent discount from legacy $200-plus Wi-Fi enabled devices. For sous vide enthusiasts, Nise Wave represents a no-compromises solution, with 1,200 watts of power, and IP67 water resistance, all in a sleek and compact form factor.
Nise Wave uses only 20 percent of the power of a traditional electric stove, so users can do their part to support a more sustainable environment. Plus, sous vide enthusiasts can create and share recipes with other foodies via the Nise Wave app.
Nise Wave will also be shipping pre-packaged, ready to cook meal packs - creating an automated, ingredient-to-plate experience. These scan-able packs pre-program Nise Wave and take the prep time out of cooking. In addition, there are hundreds of recipes pre-programmed into the Nise Wave app, along with simple prep directions and instructions for the user.
"Our cooking instructions are so easy that anyone can really master the Nise Wave," said Co-creator Grant Hu. "Our main goal was to bring the sous vide cooking technique into any person's kitchen and provide them the flexibility to cook a wide array of desserts, entrées or smoothies any time day or night so they can enjoy consistently-cooked delicious, healthy meals regardless of their schedule."
To learn more about how The Nise Wave Smart Sous Vide can make cooking easier and food better tasting, and for limited-time early-bird specials, visit the Nise Wave Campaign Page on Indiegogo InDemand.
About Nise Tech
Rayner Mendes and Grant Hu started Nise Tech building upon the sous-vide technology that chefs have been using since the 1970s. Rayner Mendes, CEO of Nise Tech (in North America) joined up with Grant Hu (Chief Product Offer) in June 2016 and have been working on building the startup ever since. They have since been joined by Dorian Wilson (Chief Marketing Officer).