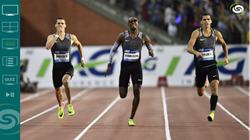 Track and field competitions with their numerous events are ideally suited for the Kiswe interactive mobile viewing.
New York, NY and Brussels, Belgium (PRWEB) September 01, 2017
VRT Sporza is teaming up with innovative mobile streaming provider Kiswe Mobile to deliver an industry first fully interactive mobile experience around the Diamond League. On Friday September 1st, the concluding meeting and final of the Diamond League is held in Brussels, Belgium. This premium Track and Field event will host at least ten freshly crowned world champions and a series of international top athletes.
As a first of its kind digital experience, the fan will not only be able to watch the traditional TV production covering mainly the track competitions, but also can experience all field competitions in full ànd simultaneously - a bonus for the true fans of discus throwing and long, high and pole vault jumping events. The Sporza play-by-play, program feed, athlete profiles and live results feeds allow fans to navigate the buzz of the Brussels Track and Field meeting. Fans can tag, relive, and watch any event as often as desired. Finally, fan interaction is further stimulated with an integrated trivia quiz game and live race predictions.
"We are excited to work with Sporza and the Diamond League on this premier event," said Mike Schabel, CEO of Kiswe Mobile. "We believe track and field meetings with their numerous simultaneous events are ideally suited for Kiswe's interactive mobile viewing experience".
The collaboration between VRT Sporza and Kiswe Mobile was shaped through the VRT Sandbox, an initiative to stimulate media-innovation between VRT and technology innovators. Within this collaboration, Sporza and Kiswe Mobile research how the creation of an extended and integrated experience, bundling simultaneous video streams and interactive components, truly leads to richer and more engaging experiences for the digital fan.
Kiswe Mobile specialises in creating engaging, lean forward fan experiences on mobile for sports and music. It has unique technology building blocks to fast-switch digital video streams, integrate multiple storylines, and embed low resistance fan interactions with brands and polls.
This collaboration is aimed at a Dutch-speaking Belgian audience. The live interactive streaming starts on Friday September 1st, 1.15pm EST. More info can be found at the VRT Sporza website, or on mobile via http://kiswe.tv/sporza.
About Kiswe: Kiswe Mobile video solutions make content more interactive and engaging for today's digital audience. Kiswe provides an end-to-end cloud platform for content owners including including powerful production, remote commentary, and instant clipping tools. Kiswe's innovations allows end users to interact with their video through personalized user initiated storylines. Kiswe is headquartered in Murray Hill, NJ and has offices in New York City, Washington DC, Belgium, and Korea. To learn more about Kiswe Mobile, visit http://kiswe.com.