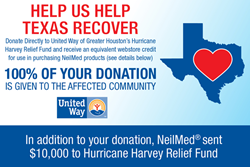 NeilMed's Hurricane Harvey Relief Fund Donation Drive
SANTA ROSA, CALIFORNIA (PRWEB) September 01, 2017
NeilMed Pharmaceuticals, Inc. has committed to providing relief for Hurricane Harvey victims in two ways.
First, NeilMed donated $10,000 in cash to the United Way of Greater Houston's Hurricane Relief Fund.
NeilMed also organized a donation drive, incentivising its customers to donate to the Relief Fund. customers who donate to the Relief Fund will receive an equivalent webstore credit to purchase NeilMed products online. This donation drive will be valid through 11:59 pm Tuesday, September 5, 2017. To participate, NeilMed provides the following instructions:

Visit https://www.unitedwayhouston.org/flood/flood-donation/ and donate to help the flood victims in Houston and the surrounding area. When making your donation, please enter the company name as "NeilMed" for our tracking purposes. Please note that you are receiving 100% credit for your donation for tax purposes, and NeilMed will not be receiving any credit.
Forward the donation receipt to questions@neilmed.com by Friday, September 8, 2017. You may also take a photograph of your receipt and email to questions(at)neilmed(dot)com or visit http://www.neilmed.com/usa/offer_p4549.php and upload your receipt online.
Within one week, NeilMed will send you a code number which you will enter at the time that you place your web order online at http://www.neilmed.com. The value of the code will be equal to the donation you made, and can be used towards the purchase of any NeilMed product. Maximum value of free products given will be $100 USD per customer. This will apply only if your donation exceeds $100.