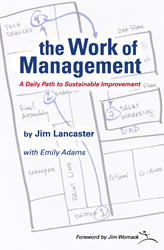 "The book is easy to read, not preachy, with many simple lessons for top managers ..."
Cambridge, MA (PRWEB) September 13, 2017
Lantech was an American manufacturing success story, enjoying success after success for a decade as it converted operations from wasteful batch production to efficient lean production. Millions of dollars in inventory were freed up. Lantech was featured in "Lean Thinking" and Harvard Business Review. Thousands of managers, executives, and continuous improvement experts visited to see how a company committed to continuous lean improvements operated.
But when the tours left, CEO Jim Lancaster was left with two deepening mysteries:

Why did improvements deteriorate so quickly?
And, if we're so good at continuous improvement (kaizen), why weren't profits dramatically better?
Now, the practical and inspiring story of how Lantech quadrupled profitability by making improvements stick, described in detail by Lancaster in "Work of Management", has been recognized with the prestigious Publication Award from the Shingo Institute, part of the Jon M. Huntsman School of Business at Utah State University.
Daily Continuous Improvement
"The book is easy to read, not preachy, with many simple lessons for top managers," wrote one award examiner. "Its greatest strength is in its arguments for daily floor-level participation by top management." The "floor" can be sales, accounting, quality, manufacturing, etc. – it's wherever the value-adding work of a business occurs.
Lancaster said, "The publication award is an honor for me and everyone on the Lantech team whose dedication and willingness to try and fail, then try and fail again at establishing this new business system ultimately created the success and stability we enjoy today."
The "Work of Management," published in March 2017 by the nonprofit Lean Enterprise Institute, is a business success story on two levels: a close-up, candid look at Lancaster's personal transformation as a leader and an in-depth account about the company's lean management success, relapse, and comeback.
In plain language the book reveals:

Why Lantech, a stellar performer in continuous improvement for a decade, struggled over time to sustain gains and improve financial performance.
Why 60 to 90 minutes of daily, standardized management activities at the frontlines are a CEO's most important minutes of the day and are the real work of management because of how they grow the business.
8 steps executives can take to create a bullet-proof, real-time daily management system without expensive consultants.
Why daily management requires a major shift in managers' mindsets and behaviors from giving orders and judging individuals on performance to asking questions and enabling good work by people at lower levels so metrics are routinely met.
Editors/Producers/Bloggers
For review copies of "Work of Management" or to interview the author, contact LEI Communications Director Chet Marchwinski at cmarchwinski@lean.org or 617- 871-2930.
About the Award
The Shingo Publication Award recognizes research and writing regarding new knowledge and understanding of lean and operational excellence. It is given annually by The Shingo Institute, a nonprofit that is part of the Jon M. Huntsman School of Business at Utah State University
About Lantech
Lantech is known as the leader in stretch wrap technology and innovation, as well as case handling equipment. It has sales and manufacturing headquarters in Louisville, sales and manufacturing facilities in The Netherlands, and sales and service operations in Australia and China. Annual gross sales exceed $130 million.
About Lean Enterprise Institute
Founded in 1997, Lean Enterprise Institute Inc. (LEI), is a 501(c)(3) nonprofit based in Cambridge, MA, with a mission to make things better through lean thinking and practice. LEI conducts research, teaches educational workshops, publishes books and ebooks, organizes conferences, and shares practical information about lean management.