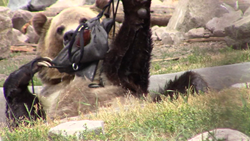 "Grizzly Bears are some of the toughest and most ingenious thieves you'll encounter," said Don Halpern, LOCTOTE founder and CEO. "People have been asking for an unbiased, independent test to verify the toughness of our bags. We'll here it is."
New Albany, Ohio (PRWEB) September 06, 2017
The LOCTOTE® INDUSTRIAL BAG COMPANY, based in Columbus, Ohio, initially launched the Flak Sack on Kickstarter in April of 2016. This bag solved a problem faced daily by active people all over the world – where to put personal valuables when not being able to keep an eye on them, and not worry about them being stolen. The result were lockable bags that are like portable safes while on the go. LOCTOTE achieved this through a combination of high-tech materials and innovative design. The Flak Sack was a hit on crowdfunding platforms, raising over $1.45 million.
FLAK SACK & FLAK SACK COALITION IGBC CERTIFIED BEAR-RESISTANT
As a testament to its durability, the Flak Sack and the limited edition Flak Sack COALITION are now the first backpacks, of any kind, to become IGBC (Interagency Grizzly Bear Committee) Certified Bear-Resistant. Each bag, stuffed with attractant (honey, peanut butter, fish, etc.) lasted the required 60 minutes of grizzly bear biting, clawing, pounding, pulling, compressing, and general abuse without being destroyed and enabling the bears to get at the contents.
KEYS TO SUCCESS: HOW A BAG CAN STOP BEARS
The Flak Sack is made from a proprietary fabric that is soft, but extremely slash-resistant . To prove its effectiveness, the company's CEO posted a video of himself getting slashed by a box cutter while wearing a t-shirt made of the same fabric, and sustaining no injuries (https://youtu.be/2O7wVJrMJ6c). This feature differentiates the Flak Sack from other bear-resistant containers on the market, with most being of rigid construction. During testing, the bears were not able to rip apart the fabric with their teeth nor claws to reach the food locked inside.The bag incorporates a hidden locking mechanism that enables the bag to be locked shut or to a stationary object. This patent-pending locking mechanism is tested to handle over 1,000 lbs of force without breaking and is extremely difficult to cut. Thus, the bag can be hung off the ground as well as hold the weight of an adult grizzly bear. These features, including many more, initially designed to deter petty theft, also hold up against nature's toughest and most ingenious thieves. These features can be seen demonstrated in this video: https://vimeo.com/231924558
About LOCTOTE INDUSTRIAL BAG COMPANY
LOCTOTE INDUSTRIAL BAG COMPANY is a start-up founded by a Columbus, Ohio businessman and Ohio State University students who believe strongly in creating innovative products that enable people to live more and worry less. Initially gaining massive success on Kickstarter with their theft-resistant drawstring backpack, the company appeared on ABC's Shark Tank later that year striking a deal with Robert Herjavec. According to LOCTOTE's CEO, Don Halpern, there's nothing fancy and no secret formula to what they do. "We're just hands-on hard-working folks providing customers handcrafted hard-wearing products at a fair price. It's really quite simple."
Supplemental Files: http://bit.ly/2epQC6i