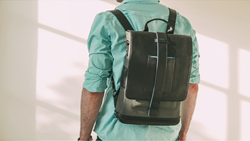 What we ended up creating is a super-functional, adding a full device charging system that compromises neither the look, weight, or what we call carry-ability.
Paris, France (PRWEB) September 01, 2017
Moovy Bag, the world's greatest all-in-one device and charging carry, is live on Kickstarter and a breakout crowdfunding success story having already raised nearly $100,000.
For people on the go in today's fast paced world, losing a precious charge at the wrong moment can make or break a day. The Moovy bag is a sleek, modern high-tech backpack which keeps users organized and connected, on the go.
"We designed the Moovy Bag because we wanted a sleek, rugged, stylish backpack to use while we're walking into meetings in different major cities," says co-founder Julien Long on the inspiration behind the project. "What we ended up creating is a super-functional, adding a full device charging system that compromises neither the look, weight, or what we call carry-ability."
The Moovy Bag is a sleek and stylish bag that looks as good as it works. It's compact design conceals a multitude of storage compartments for everything from smartphones to tablets and laptops; with the ability to charge them all at once. This is the definitive bag for digital nomads who live life on the go- freelancers, entrepreneurs, and commuters who don't have access to charging points on the go or forget to bring their power banks. Thanks to the Moovy Bag, users will never again have to fear running out of juice in critical moments.
The Moovy Bag packs a powerful punch, boasting a 22000 mAh power bank, a built in 6w solar-panel, fast charge Qualcomm QC 3, magnetic charging, and a magsafe USB-C Hub for laptops . All of this ensures that users can charge multiple portable devices at once in blazing speeds. All this charging power is protected by over-charge protection, temperate resistance, input and output over-voltage protection, short circuit protection, and output overcorrect protection.
The included solar panel is incredibly light, weighing a nimble 190grams and able to charge both indoors and outdoors, even under cloudy conditions or when light is limited.. It is light, thin, and nimble and able to capture charge better than traditional solar panels thanks to its light diffusion.
"We have the vision, the team, and the plan to make Moovy Bag happen. All we need now is your help. Support us to bring Moovy Bag to life," adds co-founder Bruno Lin. "Whether you travel for business, pleasure, or as a lifestyle, Moovy Bag gives you the freedom to live out your dreams. Join us and be part of the journey."
The Moovy Bag is currently live and available to support on Kickstarter: http://crwd.ly/moovybag58
About OUI Smart
OUI Smart founded in 2015 by Julien Long and Bruno Lin, is a company dedicated to delivering sustainable, high quality tech solutions that improve everyday life. While the pair spent 2 years connecting with other start-ups that were looking to launch through crowdfunding campaigns, and representing them as they went on to sell their products in the French market, they gain a lot of insight into this experience. Now, it's time for them to dive into their own waters with the game- changing Moovy Bag.
For more information on OUI Smart please visit http://www.ouismart.com
For more information on Moovy Bag Please visit: http://www.moovybag.com/
###