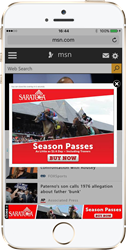 "We wanted a solution that was easy to deploy and enabled us to engage with our users in real-time with the least friction possible," said Bob Hughes, NYRA's VP & CIO
Sunnyvale, CA (PRWEB) September 06, 2017
The New York Racing Association Inc. (NYRA), which operates the three largest thoroughbred horse-racing tracks in the United States, has partnered with RaGaPa to utilize their Monetization & Engagement Solution - CaptiveXS. This innovative platform allows NYRA to engage and market to its guests via the free Wi-Fi service offered at its racing tracks.
RaGaPa's CaptiveXS solution is currently deployed at the Saratoga Race Course, which has a capacity of 50,000 spectators and is considered the oldest sporting venue of any kind in the country. CaptiveXS solution incorporates essential guest Wi-Fi features including captive portal with social login, IoT discovery and management, content filtering and content insertion. The solution is cloud-managed and delivered as software.
CaptiveXS Solution integrated seamlessly with Saratoga Race Course's existing Wi-Fi network, which consists of 200+ access points serving typically a concurrency between 10K-15K client devices. CaptiveXS' content insertion feature places an advertisement or an in-house promotional message at the bottom of the screen on any device that is using the guest Wi-Fi.
This partnership enables NYRA to promote season passes, loyalty programs signup and NYRA's mobile applications (NYRA Bets, NYRA Now and NYRA XP). The engagement platform also helps NYRA in pushing promotional giveaways and display banners for the community relations booth identifying which civic organization is at the track that day.
"We looked at various engagement solutions in the market and selected the CaptiveXS from RaGaPa because the solution is elegant and meets both our short term and long term sales and marketing requirements," said Bob Hughes, NYRA's VP & Chief Information Officer.
In less than a month since deployment, CaptiveXS Solution has delivered hundreds of thousands of impressions with above average click-through rates. The highest engagement happens during the weekends when the park is at full capacity.
"We wanted a solution that was easy to deploy and enabled us to engage with our users in real-time with the least friction possible," Hughes added. "Our choice proved right since we were able to deploy in a very short time over a well-coordinated effort just a day before the actual start of season".
"We have seen great results in terms of user engagement in a very short period at Saratoga Race Course." said Gagandeep Singh, RaGaPa Inc's Chief Executive Officer. "NYRA has now a full suite of features available to them in our CaptiveXS solution - from Captive Portal with social login, to content filtering and our proprietary content insertion solution that they can leverage" he added.
With the summer season coming to an end, NYRA is well positioned for another successful year of thoroughbred horse racing. NYRA plans to deploy the solution in other tracks at the start of their season. NYRA's portfolio includes Aqueduct Racetrack in South Ozone Park, Queens; Belmont Park in Elmont, Long Island; and Saratoga Race Course in Saratoga Springs, New York.
With a successful launch at the Saratoga Race Course and great ROI coming at race-horse speeds, RaGaPa's CaptiveXS has become a key solution for Wi-Fi marketing and user engagement for NYRA.
About NYRA:
Founded in 1955 and franchised to run thoroughbred racing at New York's three major tracks (Aqueduct Racetrack, Belmont Park, and Saratoga Race Course) through 2033, the New York Racing Association's mission is "Meeting the highest standards in thoroughbred racing and equine safety." With a lineage of nearly 150 years, NYRA tracks are the cornerstone of New York State's thoroughbred industry, which contributes more than $2 billion annually to its urban, suburban and rural economy. For more information, visit http://www.NYRA.com.
About RaGaPa Inc.:
RaGaPa's mission is to provide a secure and engaging Wi-Fi experience. RaGaPa has combined all the essential Wi-Fi services into a unified platform managed through a cloud-based dashboard with the "CaptiveXS" Solution.
With CaptiveXS, out-of-the box IoT security and engagement/monetization tools can help businesses of any size to provide a safe and engaging guest Wi-Fi experience. The key CaptiveXS features include - IoT Discovery, Management and Security, Captive Portal with Social Login, Content Filtering, Content Insertion, Deep User Analytics and User Management. For more info visit: http://www.RaGaPa.com & http://www.CaptiveXS.com