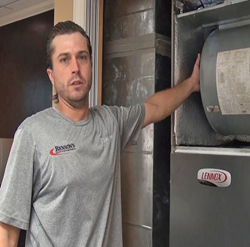 I think we've overcome any challenges that have arisen, Jeffrey's a great worker. We enjoy having him here.
Tallahassee, FL (PRWEB) September 05, 2017
Jeffrey Laverty was born profoundly deaf. He didn't say his first words until he was almost three years old, when he got his first hearing aids. He learned American sign language, but then he stopped speaking again. His parents kept looking for ways to help, and when he was 11 years old, he got his first cochlear implant. "I started hearing a lot of new sounds, and it changed my life!" Jeffrey says. He now has cochlear implants in both ears, and his life has changed again.
Fast forward a few years, and Jeffrey is married with a family and starting a new career thanks to the assistance of Vocational Rehabilitation (VR), a federal-state agency that helps people with disabilities get or keep a job. Jeffrey worked with VR Counselor Jennifer Wester to decide on his career path and which services he needed to reach his goal.
First, VR paid for his tuition and books so he could train in HVAC – heating, ventilation and air conditioning. "I went to Lively Technical School for the training, and I fell in love with the job doing duct work," Jeffrey says. VR also bought waterproof processors for his cochlear implants because of the nature of the job, working outside in the heat and humidity of north Florida.
Jeffrey now works for Benson's Heating & Air Conditioning Inc. as an air duct crew member specializing in cleaning duct work in established buildings and designing the duct layout for new construction. He's enthusiastic about his job and is eager to share the ins and outs of making sure a home's duct work is properly placed and working well. "My job is to do the duct work; the duct cleaning and duct change out. I have a lot of experience doing the job, and I'm still learning a lot. I love my job. Everything's great!"
Sherry Culpepper Barner, Jeffrey's supervisor at Benson's, says that working with someone who has a disability has been a good experience for them. They had never hired someone who was deaf before, so it was a new situation for them. "I think we've overcome any challenges that have arisen," she says. "Jeffrey's a great worker. We enjoy having him here. He's still learning, but learning and growing is all part of this experience."
When asked about accommodations for Jeffrey, Sherry explains, "As far as accommodations go, we just talk and text. He had an interpreter for three months who went with him to all of the jobs and that helped. He also has an interpreter come when we have company meetings because it's difficult to hear with all of the people here. That way he doesn't miss anything that's being said."
This was the first time Benson's had worked with VR to hire someone with a disability. "I would say it's a positive thing to do within the company if you have the capabilities to do it and depending on the disability," says Daniel Boyette, General Manager at Benson's Heating and Air Conditioning. "We're limited with who we can hire because of the amount of physical activity it takes to do our job. But Jeffrey's just a great guy, we don't see him as someone with a disability."
Jeffrey is thrilled with everything VR and Jennifer did to get him started in his new career. "Jenny did a great job! She helped me get new upgraded processors, to help me hear better in a group environment, and now I can hear. I can hear them talking very well. It's changed my life. It's changed my world!"
About Vocational Rehabilitation
Florida's Vocational Rehabilitation (VR) is a federal-state program committed to helping people with disabilities become part of America's workforce. The employer-focused website, https://abilitieswork.employflorida.com/, allows businesses to search at no charge for employees who are ready to go to work, as well as to post available jobs. VR has 90 offices across Florida, and last year helped 5,194 Floridians with significant disabilities find or keep a job. For more information about VR and its services, call (800) 451-4327 or visit http://www.Rehabworks.org.