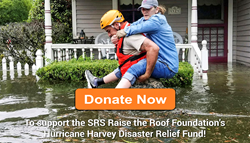 The damage has been catastrophic, and these communities need our support.
Dallas, Texas (PRWEB) September 01, 2017
National Roofing Partners (NRP), the leading network of commercial roofing contractors in North America, is proud to support the SRS Raise the Roof Foundation. SRS Distribution, a national network of independent roofing distributors, has already raised $89,445.00 just in one day for Hurricane Harvey relief efforts. SRS has committed to a 100% match of contributions for the next two-weeks and NRP is committed to helping get the message out to the industry.
NRP will be donating funds along with promoting the relief efforts through their national network of commercial roofing partners. "We are incredibly impressed with what SRS is doing for the people of Texas," stated Dale Tyler, president of National Roofing Partners, a Dallas-based corporation. "We want to help spread the word to the industry while also helping to raise funds internally through the NRP network and our customer base."
"The SRS Raise the Roof Foundation is committed to supporting natural disaster relief efforts of the communities we serve. The damage has been catastrophic, and these communities need our support. All money raised will go to support relief organizations that the Foundation currently sponsors or, on a limited basis, directly to victims of this terrible storm," stated Dan Tinker, President, SRS Raise the Roof Foundation, Inc. "We are seeing roofing contractors making their way to the storm stricken area, helping in anyway they can. We set this foundation up for just these types of events."
Donations can be made online to the Raise the Roof Foundation by clicking here.