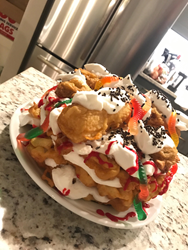 Olney, Maryland (PRWEB) August 31, 2017
Field of Screams Maryland opens Sept 22, 2017 with a lot more than just their normal screams this year. Field of Screams Maryland returns for the 2017 season and is nationally known as one of the best haunted houses in America - but, it is also known for its incredible food and is announcing that a 5,000 calorie gut buster dessert is being added to their menu. Field of Screams Maryland is two terrifying walks through haunted trails, a terrifying haunted house and a haunted hayride. Rated the #1 Halloween Attraction and Haunted House in Maryland, Virginia and Washington DC.
Field of Screams Maryland, the DC/Baltimore metro area's definitive haunt experience has created a dessert that will make even the strongest of stomachs churn with delight before exploding. Field of Screams Maryland opens September 22nd through early November in Montgomery County, Maryland and the screams you will be hearing won't just be from the 4 terrifying haunts, but from the customers that decide to eat the "Devil's Delight" dessert they are now offering. Devil's Delight looks like heaven, but is packed with a scary 5,000 calories of heart stopping yumminess. Designed by a pastry chef so it meets the same quality standards the owners have for their haunted house and trails, Devil's Delight is a massive tower of funnel cakes, fried twinkies, fried oreos, whipped cream and amazing warm and fresh sauces. Among other ingredients too, this culinary tower is topped with candied eye balls that give you the sense that you're eating something that is looking back at you. Eeek, but kinda cool too for the Halloween season.
If you can eat this monstrosity of a dessert in the allotted time they give you, it's free along with 4 free VIP passes to the next year's event plus your name goes up on a plaque forever. To date, none of the amateurs have been able to stuff it all down in one sitting so the word is going out to all that want to try to come to the Field of Screams Maryland in Olney, Maryland and pull this sword from its stone.
Field of Screams Maryland includes 4 terrifying events in one location and spans 40-acres of Disney quality attractions, actors and haunted houses. Field of Screams Maryland is a tradition for many that has long been lauded as one of the best Halloween Haunted Houses and Attractions in the country and is the largest, most popular and most highly rated Scream Park and haunted houses in Maryland, Virginia, DC and Delaware. The group building and managing Field of Screams Maryland, which benefits the Olney Boys and Girls Community Sports Association, has an extensive offering of services in the haunt industry working with professional sports organizations and companies such as the Baltimore Ravens, Hard Rock Cafe and A&E Network. Field of Screams Maryland and now Ocean City Screams Maryland, are highly detailed and painfully scary haunted houses, trails and hayrides using carefully crafted back-stories to build the foundation of these experiences. Field of Screams Maryland is designed to exploit the scientific spectrum of human fears, ensuring no one escapes the attraction without being scared beyond their expectations. FOSMD offers multiple inter-attraction activities. Field of Screams Maryland is Smoke and Alcohol-free and NO BAGS or BACKPACKS are allowed on the property - everyone is subject to search. Attendees should prepare for the fright of their lives by wearing sturdy shoes that are good to run in! Tickets for Field of Screams Maryland are in late August at http://www.Screams.org
Field of Screams Maryland – 4501 Olney-Laytonsville Rd Olney, MD 20832 – 30 mins from DC/Balt/NoVa Open select Fridays and Saturday in Sept and most Thursdays through Sunday in October. Check out http://www.screams.org for full schedule
CONTACT: Public relations – 717.676.5469 - RESOURCES: Authorized Photographs: https://www.dropbox.com/sh/6t83uuj92w08556/AABP8niRFEY3dIbe2NucXxrJa?dl=0