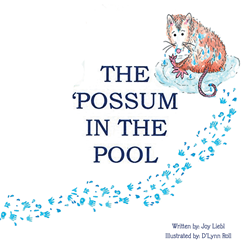 CLEARWATER, Fla. (PRWEB) September 04, 2017
A Central Florida-based author has released a children's book reminding them to be respectful of their elders. "The Possum in the Pool," by author Joy Liebl, is a lighthearted children's book revolving around an opossum as he is forced to endure the consequences of not listening to his mother.
In 'Pool,' readers are introduced to main character Robby, a young opossum. Robby is hanging out around a cement pool, teetering very close to the edge. His mother warns him to be cautious, but he doesn't listen and, as a result, falls in. Because his mother can't help him get out, he needs to wait until sunrise to be rescued.
With 'Pool,' Liebl hopes children will learn the universal lesson of respecting one's parent and to be aware of the penalties of not listening. "I believe I wrote this book in a fun way, by not having too much text and adding the 'ah-choo' page to give children an opportunity to participate in the book."
"The combination of storyline and pictures work well in this illustrated children's book," a reviewer wrote about the book. "It will surely be one of the first choices for children reaching to their book shelf grabbing it – wanting to be told it again – and again – at bedtime."
A fun, cheerful children's story intertwined with messages parents and teachers alike can share, "The Possum in the Pool" is a delightful read for children of all ages.
"The Possum in the Pool"
By Joy Liebl
ISBN: ISBN (softcover); ISBN (hardcover); ISBN (electronic)
Available at the Xlibris Online Bookstore, Amazon and Barnes & Noble
About the author
Joy Liebl is an author living in Safety Harbor, Fla. She is also the owner of an online Etsy shop called "JoysHandmades." To learn more, please visit her website.
Review Copies & Interview Requests:
LAVIDGE – Phoenix
Chris Peña
480-998-2600 x 519
cpena(at)lavidge(dot)com
General Inquiries:
LAVIDGE – Phoenix
Bryan Beach
480-998-2600 x 510
bbeach(at)lavidge(dot)com