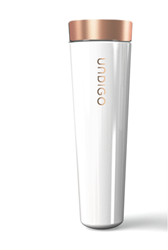 We wanted to simplify the modern woman's life!
(PRWEB) September 06, 2017
The very latest defense against embarrassing accidents, UNDIGO is now available for crowd funding via Indiegogo. The compact ready-to-use emergency underwear comes equipped in a discreet aluminum capsule about the size of a tube of lipstick. Every UNDIGO contains a sterilized, ready to wear pair of no show underwear. Simply unscrew the lid, pull out the enclosed underwear, and place the stained pair in the included wash-me bag, ensuring you always have "a fresh pair everywhere."
See how it works.
UNDIGO is ideal for those understandable but humiliating incidents that can come about as a result of maternity, bowel disease, or other mishaps in day-to-day life. Available at launch in nude and black colors, UNDIGO ensures that a clean, dry pair of underwear is never outside arm's reach. Offered in sizes from XS to XL, it's the perfect preventative measure against any and all accidents. UNDIGO can be tucked into a bag for the office, the gym, or the fully-equipped outdoorswoman.
"We wanted to simplify the modern woman's life with our ready-to-use solution," said project co-creator Stéphanie. "An incident I had during a trip to Portugal last year made clear there's a need for UNDIGO."
About UNDIGO
The brainchild of project creators Stéphanie and Patrice, UNDIGO came about as a result of an inconvenient situation Stéphanie faced on vacation. The frank conversation they shared of the different trials men and women face brought about UNDIGO. The ultra-transportable UNDIGO tube contains a sterilized pair of underwear providing discreet and easy relief from any feminine incident.
Social Media:
Media Contact:
Raphaëlle Viau
r.viau(at)startl(dot)us
(514) 704-2890