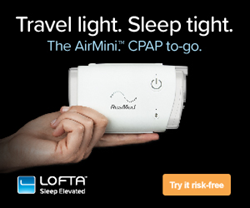 "Our company's mission has always been to help people feel better, so naturally, in the wake of this natural disaster we want to be able to support relief efforts in any way we can."
San Diego, Calif. (PRWEB) August 31, 2017
Lofta, the San Diego-based company, announced today its intention to donate a portion of the company's proceeds to the Hurricane Harvey Relief Fund to support those affected by the recent floods. Established by Houston mayor, Sylvester Turner, the fund is a 501(c)(3) public charity housed at the Greater Houston Community Foundation.
"Lofta is part of a personal commitment to help improve quality of life for the millions of people nationwide who suffer from sleep apnea," explains principal Jay Levitt. "Our company's mission has always been to help people feel better, so naturally, in the wake of this natural disaster we want to be able to support relief efforts in any way we can."
It is estimated that one in five adults in the US have sleep apnea, and with so many people out of their homes, the sleep community is rallying together. For those looking for other ways to support the victims of the historic hurricane, Lofta recommends contacting the American Association of Sleep Technologists (AAST) regarding their efforts to make direct, local donations of CPAP machines, hoses, masks and other equipment for displaced individuals. "We're encouraged to see so many people pulling together," says Levitt. "We are watching with the rest of the world, and want to see individuals can get the help they need."
Those wishing to have a portion of their own CPAP purchase benefit the fund, or to make a direct donation to the Hurricane Harvey Relief Fund can do so at Lofta's online shop: buyminicpap.com.
About Lofta
Driven by a desire to streamline a needlessly complex experience, Lofta set out to elevate the treatment of sleep-disordered breathing. By removing the obstacles to relief that compound an already exhausting problem—the maze of insurance, arduous overnights at the sleep lab, and a too-common lack of support—Lofta clears the path to breathing easier by providing access to screening, tools, telemedicine, tests, supplies, and support all available in one place: at home. Better sleep can change your life. And it's never been easier. More information at lofta.com and buyminicpap.com.
Learn more about how Lofta has revolutionized the sleep therapy industry.
For media inquires about Lofta, please contact:
Lofta Press Team
800-698-8000
sleep(at)lofta(dot)com
lofta.com | buyminicpap.com | Facebook | LinkedIn
Lofta, Inc. headquarters
7661 Girard Avenue, Suite 230
La Jolla, California 92037
858-299-8000
800-247-6464