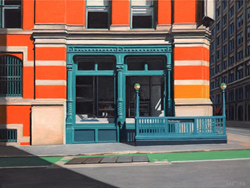 San Francisco, CA (PRWEB) September 05, 2017
UGallery, the curated online art gallery that delivers original art to your doorstep, is pleased to announce its participation in the 24th edition of Affordable Art Fair NYC, which will be held at the The Metropolitan Pavilion from September 13 to 17, 2017. Visitors will notice the UGallery booth upon entering the fair, and be presented with a selection of work in a variety of media by Scott Dykema, Nick Savides, Jonelle Summerfield, Jose H. Alvarenga, Allen Wittert, James Hartman and Nancy Hughes Miller.
"We're excited to be back at Affordable Art Fair. It's a well-run fair and we have had a lot of success here over the years," said Alex Farkas, UGallery co-founder and Gallery Director. "New York is the center of the art world, and a great market for us. Physical events like Affordable Art Fair are a wonderful opportunity to bring our curated online art marketplace to life and we are thrilled to spread the joys of owning original art to an even larger audience."
11 years after launching as an online-only marketplace, UGallery is now focusing on the physical realm to further its mission of opening up access to original art. Last week UGallery launched its first retail pop-up shop in Chicago's Water Tower Place and earlier this year partnered with Crate and Barrel to be the home furnishing retailer's exclusive original art provider.
In a new twist for 2017, UGallery has curated its booth specifically to match the tastes of New Yorkers. The online art marketplace is leveraging its extensive data on sales in the Tri-State area to showcase artworks that will catch the eye of fair visitors. From Nick Savides' realist New York City scenes to Scott Dykema's street art-inspired geishas, the collection speaks to the diversity of UGallery artists and the gallery's ability to personalize the works on display to the specific audience.
"We had the pleasure of working with UGallery in Spring 2015 and are thrilled to have their talented roster of artists return in 2017," said Vanessa Seis, Director of Affordable Art Fair NYC. "Currently, I'm in love with the work of Jose H. Alvarenga. His still life paintings are fun, thoughtful, and nostalgic and their price point is great!"
ABOUT UGALLERY
UGallery is a curated online art gallery that delivers original art to your doorstep. Founded in 2006, UGallery passionately represents 500 top emerging artists from all around the world. With free shipping and free returns, UGallery makes it easier than ever to experience the joys of owning original art. Visit us at UGallery.com.