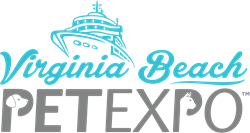 Virginia Beach, VAwww (PRWEB) August 31, 2017
Hampton Roads Area pet lovers, pet parents, pets and their families are gearing up for another exciting, tail-wagging experience as leading national event production company Amazing Pet Expos returns to the Virginia Beach Convention Center for the fifth annual Virginia Beach Pet Expo. The free-admission event is held indoors and opens to the public on Saturday, September 9th, 10:00 AM – 5:00 PM, and Sunday, September 10th, 11:00AM – 4:00 PM.
The exposition showcases national sponsor Petfinder.com and will feature a large mega-adoption event with a variety of adoptable pets that are looking for a new forever friend and home from local Virginia rescues and adoption organizations. Attendees and their high-energy pets can also check out the Lucky Dog Adventures Lure Course and the Flyball Area, as well as enjoy live presentations on the entertainment stage. Other notable interactive features include free nail trims, low-cost vaccinations, and pet contests on the Contest Stage, where pets compete for a chance to win amazing prizes.
"There is something for everyone and every pet at this year's Virginia Beach Pet Expo," says Ethan Barnett, Vice President of Events. "All pets are welcome and invited to attend this fun filled weekend where pets and people are always treated as equals and are never discriminated against. In fact, it's really a weekend to celebrate everything pet!"
The Virginia Beach Pet Expo invites attendees and their pets to explore more than 80 exhibitor booths featuring various unique pet products, pet clothing and accessories, pet treats and more. In addition, attendees can learn about local rescue organizations and how they can help save, foster, adopt or care for local animals in need. Other presentations will include a Q and A session with local pet professionals and presentations about pet safety and care. Also, attendees will once again be able to exercise their pets on the Lure Course and enjoy high energy rally sport, Flyball.
"We are so excited to expand the features of the event. People often think of this as a dog show only, but we work to be an all-encompassing pet event and try to reflect the diversity of pets and potential pet parents," says Barnett.
The free, indoor, and air-conditioned Virginia Beach Pet Expo attracts more than 10,000 attendees along with their furry, feathered, and reptilian pals who are looking to enjoy a new and one-of-a-kind experience where all pets can enjoy a fun day or two out with their pet parent(s). All well-behaved pets are welcome, as long as they're on a fixed lead (or in a carrier) and have proof of age-appropriate rabies vaccines.