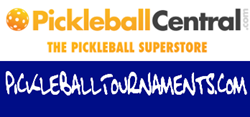 The partnership between PickleballTournaments.com and PickleballCentral.com will bring value to pickleball tournaments everywhere. Our two companies operate with the same core values through high quality products, excellent customer service and support.
(PRWEB) September 07, 2017
PickleballCentral.com and PickleballTournaments.com today announced the launch of their affiliate partnership featuring an online store and tournament management software. This partnership brings together best in class tournament software, supplies and apparel to the thousands of tournament directors who organize and run pickleball tournaments annually.
Pickleball is the fastest growing sport in the U.S. with over 2.5 million players. The number of tournaments held in the U.S. and worldwide increases by the hundreds each year. Until now there has been no integrated source to help tournament directors manage tournament organization and find quality, customizable pickleball tournament medals, shirt and merchandise.
"Pickleball tournaments have contributed to the growth of the sport, and we understand that being a tournament director is a labor of love," shared Anna Copley, co-founder of PickleballCentral. "Nearly every pickleball tournament director is a volunteer who donates countless hours solving a myriad of details. PickleballCentral loves these events and the people who run them, and we want to support these pickleball heroes." PickleballCentral has been sponsoring pickleball tournaments since 2009 and was one of the first companies to sponsor the USA Pickleball Association National Tournament. To date PickleballCentral has sponsored over five hundred pickleball tournaments.
This partnership between the #1 provider of pickleball merchandise and the #1 provider of tournament management software will greatly simplify and enhance tournament organization, providing pickleball tournament directors a one-stop shop with everything they need to execute a successful event including customizable pickleball tournament merchandise and tournament registration services. Tournament directors will receive a welcome kit containing helpful tournament organizing tips and sample merchandise. They will be able to select from a wide array of high quality, customizable, pickleball specific tournament products such as medals, referee gear, pickleballs, paddle covers and apparel. In addition, pickleball players will now have ready access to PickleballTournaments.com apparel through PickleballCentral.
"We couldn't be more excited about the partnership between PickleballTournaments.com and PickleballCentral.com and all of the value we believe this partnership will bring to tournaments everywhere," said Melissa McCurley, owner of PickleballTournaments.com. "Our two companies operate with the same core values through high quality products, services and support. Both companies take great pride in providing excellent customer service. We don't want to just satisfy our customers, we want to delight them. We believe these shared core values make this partnership a perfect match to provide our tournament directors with products they need to make their job less stressful."
Added Copley, "When we were approached by Melissa McCurley to discuss an affiliate partnership, there was instant synergy. PickleballTournaments.com is the industry leader in tournament software and services, and PickleballCentral is the industry leader in pickleball products." Both companies deeply understand pickleball and tournaments. Combining their joint expertise through this collaboration will help improve and grow pickleball tournaments for directors and players alike.
About PickleballCentral.com
PickleballCentral is the world's largest independent supplier of pickleball related equipment. The company serves over 100 distribution partners, and operates several retail websites that have served over 100,000 customers worldwide. Ranked # 1 in Customer Service for Racquet Sports retailers, the company is a family oriented, privately held company operating in Kent, Washington.
About PickleballTournaments.com
PickleballTournaments.com is the worldwide industry leader in pickleball tournament software, management, and services. Their web-based tournament management system is used by the thousands of tournament directors who register, organize and manage tournaments of all sizes, and is the one website all pickleball tournament players visit for tournament information, registration and to follow themselves or their friends and family through live tournament brackets and player results.