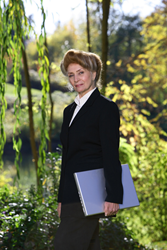 Grants Pass, OR (PRWEB) September 01, 2017
In some countries, women walk four hours a day with huge clay jugs balanced on their heads in order to fetch and convey fresh water to their families and villages. In other parts of the world, more than 2 billion people try to get by on drinking and using contaminated water because there is no way that they can get and use fresh water.
Sharon Kleyne, America's top water advocate and researcher, recently acknowledged this tragic state of affairs on her nationally syndicated radio program, The Sharon Kleyne Hour Power of Water, Global Climate Change and Your Health on Voice of America, and talked about the global fresh water crisis we're facing.
For more than two decades, Kleyne's research and new water technology discoveries at the company she founded, Bio-Logic Aqua® Research Water Life Science®, have garnered international recognition for her as the global expert on dehydration of the eyes and skin due to excessive evaporation of the body's water vapor. "From the moment we leave our mother's water-womb and are born," Kleyne says, "we begin a process of evaporation that continues until death." Kleyne wants people globally to commit to being more proactive about their health by learning all that they can about fresh water. Kleyne wants everyone to know how to get fresh water and how to protect fresh water. "It's not impossible," says Kleyne, "but it will require new water technology, a long-term commitment, even unto eternity, and some assistance,"
Regarding help, Kleyne wants government leaders everywhere to commit to supporting and paying for new water infrastructure that will save the water that currently runs off to the oceans. New water infrastructure will also maintain clean water supplies and build up aquifers, some of which are in danger of going dry from overuse. "There's no secret," Kleyne says, "to maintaining excellent health. One must supplement eyes and skin on a daily basis to replenish the evaporating water vapor."
Kleyne also warns that people on earth must stop taking fresh, clean water for granted. "Just as the eyes and skin suffer from excess evaporation, so do fresh water supplies and outlets," Kleyne says. Kleyne points out that 663 million people around the world have little or no access to clean water. At the moment, Kleyne reveals, several regions in Africa and some Southeast Asian locales are the places on earth that are most in need of fresh water. "I try to educate people around the world every day about the growing global water crisis, and the health dangers associated with dehydration due to excess evaporation of the earth's water vapor," Kleyne says. Kleyne is convinced that more education and water research will lead to new technology discoveries that will save billions of lives and the earth itself. "We will learn what we need to know to create a new, healthy Water Life Science® lifestyle," Kleyne concludes.
Please visit http://www.biologicaqua.com for more information about new water research technology and a new Water Life Science® experience that awaits you.