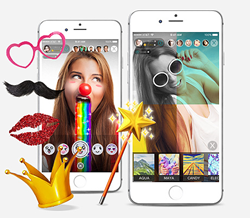 Augmented reality coming soon to Bonklive mobile application!
New York New York (PRWEB) September 01, 2017
The BonkLive application has emerged from the incubator stage and is currently available for download on Apple and or Google play markets. The new Boink Live Streaming Corporation has been restructured, forming a Delaware General Corporation.
Joe Bonica, a co-founder for the BonkLive application said, "After years of building the new Live Streaming Broadcasting platform, Boink Live streaming corporation the actual company who built the BonkLive application has been Restructured in the state of Delaware due to its advanced and flexible business formation statute."
According to Arcel Muldong, the legal officer for Boink Live streaming, "Delaware has been rated as the state with the best legal climate for 10 years in a row by the U.S. Chamber Institute for Legal Reform. Due to these benefits Incorporating in the state of Delaware, Boink Live streaming directors decided to go with a Delaware corporation because, over 50% percent of publicly-traded companies in the U.S. and 65% percent of Fortune 500 companies were all incorporated in Delaware."
BonkLive's C.E.O John Lamb, a British citizen who received a Bachelor's degree in business studies from Rye Hill College, Newcastle upon Tyne, in 1990 has been working with the company for 3 years.
John Lamb the 48 years old C.E.O said, "Now that BonkLive streaming is a general corporation in Delaware, we can go public and/or raise capital as needed by selling stock to qualified investors. The legal and liability protection of established corporate laws provided to Delaware companies is simply incomparable to what is offered by any other state in the nation, which makes Boink Live Streaming Incorporation a win/win for our shareholders and Angel Investors. Moreover, Delaware companies also enjoy incomparable tax savings. There is no state income tax for Delaware corporations that conduct business out of state; no inheritance tax on stock held by non-Delaware residents; no state sales tax on intangible personal property (such as royalty payments); and share of stock owned by non-resident aliens are not subject to Delaware taxes."
Josh Flynn VP of sales for BonkLive said, "BonkLive is like having a TV camera in your pocket. Anyone with a phone now has the power to broadcast to anyone in the world. BonkLive streamers have a convenient and cool way to show friends and fan's where they are or what they are doing in their life. BonkLive Broadcasters are all doing different things having fun online. While some of the people are building their own live streaming shows, others are showing off their talents earning money streaming online. BonkLive allows everyday normal people to become stars of the mobile phone, just like people have become stars on TV or the big Screens."
Broadcasters on BonkLive earn money streaming live as viewers send virtual gifts to the streamers. Virtual gifts are bought in packages on the BonkLive Mobile application and cost anywhere from $2.00 dollars up to $215 USD. The packages purchased give viewers virtual gold coins so they can send 3D animated gifts to people they like. They can view these people on the mobile application, which can be seen by everyone who have downloaded they application using a mobile phone during the live stream.
Giving away virtual gifts and live streaming have become a multi-billion dollar business. According to Goldman Sachs analyst except video live streaming to grow to 20 billion by 2020. https://www.cnbc.com/2017/08/31/goldman-sachs-expects-two-chinese-social-media-stocks-to-climb-double-digits-on-livestreaming.html
BonkLive will soon lead the world in live streaming, where individuals broadcast themselves singing, chatting or even eating while streaming live on mobile phones
The Goldman Sachs analysts forecast the live streaming market to grow to $15 billion in 2020, more than seven times what it was just two years ago, and are initiating buys "after a flurry of startups in the space last year."
BonkLive is the future of live streaming and is a free download in the Apple play store or Google Android store. BonkLive is similar to Facebook advertising, which had record revenues of over 8.81 billion in revenue from advertising in 2016, via likes and shares in Quarter Q4. https://techcrunch.com/2017/02/01/facebook-q4-2016-earnings/
BonkLive also is projecting multi billion dollar revenues for 2018 from its new Pay Per Press (PPP) advertising model that will soon be available on all live video streams.
Boink Live streaming Corporation is now building for release for the beginning of 2018 selfie animations which will change the way a broadcaster looks and sounds. BonkLive will also release selfie lenses with high definition (HD) quality immersive backdrops through augmented reality (AR) to the forefront of global attention this year, and have predicted, in 2018, that BonkLive will likely be one of the major players and leaders in the AR space.
BonkLive has been featured by a numerous tech companies as one of the best live streaming video applications on the market today:

Techwibe.com: Bonklive App Review – Broadcast Yourself From Anywhere Around The Globe
TechnoOrange.com: BonkLive App – Broadcast Yourself and Connect with People around the Globe
WideInfo.org: BonkLive Streaming App – Best Free Broadcasting App For Your Mobile
TechGyd.com: BonkLive App – Become an Overnight Sensation and Make Money
CrawlerGuys.com: BonkLive Review – New Era of Social Media Android App
TechApple.net: BonkLive Review – Free Social Streaming App For Your Android And iOS Mobile
TechFina.com: BonkLive Streaming Android App Review
TechBii.com: Broadcast, Chat, Share, Follow and be a Star! | BonkLive Free Android App
TeleComClue.com: BonkLive – A Complete Live Streaming Companion
NowGadgets.com: BonkLive Best Free Broadcasting App For Android
TecHavy.com: Best Free Live Streaming App For Android
StumpBlog.com: BonkLive Free Live Streaming App for your iOS Phone [iPhone, iPad, iPod Touch]
XiaomiToday.com: Get Paid For Time Spent On Social Media With Bonk Live Streaming App
BoinkLive's senior adviser and co-founder, Mr. Joe Bonica said, "Mobile broadcasting and streaming is where the action and the big money is. At last count, there were 119 startups valued at more than $1 billion—almost all created within the past few years. Consider Uber, whose private valuation in just six years has soared from zero to $50 billion based on reports that it's trying to raise more money. If you compare that with BonkLive shares selling at $5.00, it's a huge win for investors both young and old."
BoikLive built its platform using nerds and geeks from around the world. Idap, out of the Ukraine, has been one of their lead developers. BonkLive was built on the Wowza Server Deck and CDN Network while using Amazon Web Services to secure their load stream and server placement. Bonklive can now be found in both the Google Play store for Android and the Apple Store for IOS.
This press release contains forward-looking information within the meaning of Section 27A of the Securities Act of the 1933 and Section 21E of the Securities Exchange Act of 1934 and is subject to the safe harbor created by those sections.
BonkLive also created a video for kids to show how it works.
Streaming App – Watch it in YouTube:
https://www.youtube.com/watch?v=8sEdgSQy5NQ
BonkLive is powered by Boink Live Streaming corporation with subsidiary corporations in,
Philippines – USA – Dubai – Romania – England – Germany – Indonesia – Hong Kong – Ukraine
http://www.bonkLive.com – app website
http://www.boinkLive.com – corporate website