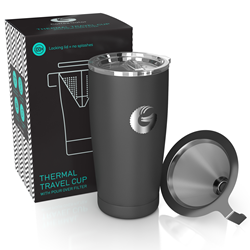 You'll usually have time to make coffee but maybe not the time to enjoy it. Our new travel brewer gives you time for both
(PRWEB) September 04, 2017
In the last few years we've seen rainbow, unicorn and black lattes, coffee served in avocados, carrots, ice cream cones and pies ('piefee' to give the official name). People have been laser printing latte art, deconstructing, reconstructing, nitro brewing, pairing with whiskey, gin, tonic and everything else. Coffee trends come and go and some will stand the test of time better than others.
Pour over coffee might be an alien term to some but to call it a 'trend' is something of a misnomer. It describes a range of percolation methods that have been around since at least 1908. World Champion Barista, James Hoffman describes it as a method of "water passing through a bed of coffee, extracting flavor along the way".
Coffee Gator has been in the business of supplying tools for making "barista quality coffee in your own home" since 2015. They've seen demand for quality coffee soar and their brewers quickly become Amazon best sellers.
Coffee Gator founder Phil Williams: "The artisan coffee industry is booming and pour over brewing has flourished because of it. There's no better way to get the full spectrum of flavors out of your beans. If you're new to pour over you really start to notice surprising new tastes and aromas. Espresso gives you a hit, but the high pressure and heat means fruity, delicate flavors don't survive".
Pour over coffee involves gradually adding hot (not boiling) water to coffee that drips through into a carafe below. It's a ritual to some but if you're in a hurry you might find yourself reaching for k-cups (or worse, instant). That problem inspired Coffee Gator's latest offering, says Williams:
"You'll usually have time to make coffee but maybe not the time to enjoy it. Our new travel brewer gives you time for both. It's an all-in-one thermal travel cup and stainless steel mesh filter that delivers maximum flavor. I tried so many travel cups which all had the same problem - your coffee is cold by the time you've finished it. We solved that with a double vacuum wall lined with copper. That's our secret to keeping a drink hot for longer than anyone else."
So it seems Mr Williams is better at solving coffee headaches than keeping trade secrets. He goes on, "there's no more paper filters, your brew tastes better and you can take it with you in a cup that prevents spills and keeps everything piping hot. We're about producing products that empower people to make exceptional coffee. We think of coffee as a basic human right so we take our job seriously."
Despite this tone, the company motto 'more smiles per cup' is reflected in their (semi) viral video (Don't) Drink Better Coffee. On the surface, it's a tongue in swipe at the big coffee chains. But the true crusade Coffee Gator is on is pretty clear to anyone who's seen it.
The new Coffee Gator pour over travel cup retails at $35 and is available on Amazon right now. Readers can get a healthy 10% off by using the code POURMUGS at checkout.