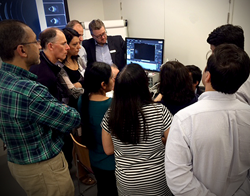 Harlow, UK (PRWEB UK) 3 September 2017
The course will take place at Crewe Hall, Cheshire on Weds 18th October 2017. The objective of this education event is to provide attendees with an in-depth understanding of this highly-skilled ophthalmic imaging technique, and how to utilise this knowledge in daily practice.
HS-UK has finalised an informative programme which will cover; Ultrasound Biomicroscopy (UBM), how to perform accurate axial lens calculation, opaque media & vitreoretinal disorders, intraocular tumours and the examination of the orbit & optic nerve.
The day will feature a faculty of specialists including; Mr Tarek El-khashab, Mr Hatem Atta, Professor Hala M. El Cheweikh and Mr David Sculfor and will include a series of lectures, demonstrations and hands-on sessions with real patients.
The course will focus on the Ellex Eye Cubed ultrasound system, which delivers the highest-quality image resolution available, with unparalleled sensitivity, making it the premier device for an ultrasound examination of the eye.
The cost of the course is £150 + VAT, which includes lunch. To book your place online, visit http://www.haagstreituk.com/advancedultrasound or, for more information, please contact Victoria Chapman-Brown, HS-UK Clinical Education &Training Co-ordinator on (01279) 456256.
### Ends ###
For news media enquiries, please contact:
Erika Poole
Marketing Co-ordinator
Email: epoole(at)haag-streit-uk(dot)com
DDI: 01279 456260