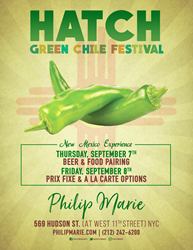 (PRWEB) September 03, 2017
Every Fall, the South Western State of New Mexico spices it up with a fresh harvest of fire-roasted chiles that hail from the Hatch Valley located about 3 hours south of Santa Fe.
We invite you to partake in the celebration of this priceless pepper with a "Hatch Green Chile Festival" @ Philip Marie Restaurant on September 7 & 8, 2017.
The celebration kicks off on Thursday, September 7, with a Beer & Food Pairing and culminates in a prix fixe or à la carte dining experience on Friday, September 8.
Savor the chiles in delicacies such as Hatch Chile Relleno made with Tuna, Ricotta Salatta Cheese, Potatoes, Creme Fraiche, Spanish Rice or with stimulating Hatch Chile Enchiladas paired with Six Point Bengali Beer.
Menus:
September 7, 2017, Beer & Food Pairing:
http://philipmarie.com/HatchChileBeerPairingMenu.pdf
September 8, 2017, Prix Fixe or A La Carte:
http://philipmarie.com/HatchChileMenu09082017.pdf
If you've never tasted a Hatch chile before, the best way to describe the taste is spicy, smoky and a little bit sweet. Not as spicy as a jalapeño pepper, but with more heat than a bell pepper, these "healthy hot bites" are touted as metabolic boosters, inflammation fighters, congestion easers, and antioxidant magic bullets.