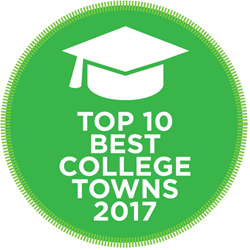 FRANKLIN, TN (PRWEB) September 05, 2017
Livability.com has released its Top 10 Best College Towns rankings for the seventh year in row — this year in partnership with ABODO Apartments, the leading off-campus and young professional apartment search engine in the U.S. The rankings focus on five key criteria that factor in quality of life, local economy and diversity, and they feature colleges and universities that range from Ivy League and private to large and public.
Our team first analyzed U.S. cities with a population between 20,000 and 350,000 and at least one college campus. We formed this list by cross-referencing 2016 city population estimates from the U.S. Census Bureau, Population Division with data from the U.S. Department of Education on all college campuses in the U.S. by city. We looked for cities that have a high population of 25- to 29-year-olds as an indicator of the town's ability to retain graduates who decided it was a great place to call home after graduation. The median salaries, availability and affordability of rental housing, and things to do were are also considered.
The cities were ranked by considering four weighted factors:
30% – The percentage of the population that is ages 20 to 29
30% – The ratio of the city's median salary (from the Bureau of Labor Statistics) to its August 2017 median one-bedroom rent (from ABODO listings)
20% – The number of jobs in the education sector per 1,000 jobs in the city, which we limited by a minimum of 90
20% – The ratio of the median salary in the city to the nation for education jobs
And finally, our editorial experts weighed in to give the list our Livability stamp of approval.
"If you look at our history of Top 100 Best Places to Live lists, you'll see many college towns at or near the top of the rankings," said Livability content marketing manager, Becky Henson. " We know without a doubt that for a mid-sized city, having a college or university can make all the difference in whether it's just a good place to live or a great place to live."
2017 Top 10 Best College Towns
Ithaca, NY
Ames, IA
State College, PA
Lafayette, IN
Champaign, IL
College Station, TX
Lawrence, KS
Gainesville, FL
Ann Arbor, MI
Corvallis, OR
###
Livability.com is your go-to source for finding the best places to live, work and play in the U.S. Our expert lists and engaging content focus on the topics in communities that you care about – highlighting people, business and community. Founded in 2008, Livability provides insights, data and compelling stories that make exploring new places informative and fun. Let us help you find your next best place.
Founded in 2012 and now a team of 35, ABODO is the country's leading hyper-local apartment search service. The company is driving the rental search experience by combining the largest inventory of available apartments with a simple and intuitive user experience. ABODO is a privately held venture-funded company headquartered in Madison, Wis.