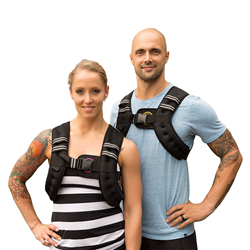 TNT has mostly been about our heat generating apparel. But, with these Weighted Vests, we're definitely going to boost our customers' workout routine.
Woodstock, IL (PRWEB) September 01, 2017
TNT Pro Series is a leading fitness brand that creates heat generating apparel and fitness gear. Weighted vests are meant to boost workout intensity. This helps people train harder and get faster results.
Here is some more information about our Weighted Vests:

The weighted vest creates additional resistance during muscle building, body-weight exercises, and heart-pumping cardio activities.
The added resistance of a weighted vest increases the intensity of any workout, forcing your body to work harder and burn more calories during each weight-bearing exercise.
It includes an adjustable strap allowing it to be customized to fit any torso. By concentrating the weight in the chest and upper body, the focus of the workout will improve core muscle strength.
When exercising with a weight vest, the body's muscle memory is triggered to adapt to the added weight. Similar to how the body adjusts to extra weight by getting stronger and faster, muscles and bones become denser to support the supposed heavier musculoskeletal caused by wearing the vest.
About TNT Pro Series:
TNT Pro Series was founded with the mission to create high quality, premium fitness gear. It has since grown into the leading fitness brand for heat generating apparel for athletes and exercise enthusiasts of all levels. The goal is to help people add an edge to their workouts and burn calories faster than before. This will allow people to drop weight faster and tone muscles more quickly.