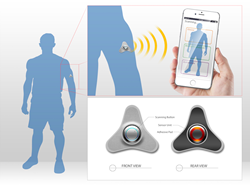 I had a feeling that one of the deal-breakers for newcomers to ketosis was the constant checking of the ketone levels. I knew I wasn't a fan and neither were my clients. This is what prompted me to begin designing the Keto Reader.
Boston, MA (PRWEB) September 05, 2017
William Byrd, expert personal trainer and certified nutrition specialist, is developing the Keto Reader, a comfortable and convenient ketogenic device that provides biofeedback in real time to help you achieve the perfect level of ketosis.
Numerous recent studies have proven the Ketogenic Diet to be a highly effective way to lose weight, increase performance and enhance overall health. A study published in the Experimental & Clinical Cardiology, for example, demonstrated how obese subjects following a ketogenic diet experienced a significant weight loss. Subjects were also reported to have healthier cholesterol levels, lower triglyceride levels, and lower blood glucose levels.
These studies coupled with thousands of positive user testimonials have promoted a shift in fitness technology as it relates to achieving ketosis.
"The Ketogenic Diet is becoming extremely popular because it's proven to work," says Boston-based fitness trainer and nutrition specialist, William Byrd. "The problem is that in order to achieve ketosis, you need to constantly get real time feedback from your body and this involves inconvenient or painful procedures."
The procedures that Byrd is referring to involve a daily blood, urine, or breath test. These tests are essential as they measure ketone levels to confirm whether or not you have achieved a state of ketosis. Byrd, a follower of the Ketogenic Diet, wanted there to be an easier way to measure the ketogenic feedback.
The Keto Reader is a very small device that is placed on the upper arm. Mimicking the feel of a band-aid, the Keto Reader provides you with real time biofeedback for levels of glucose, beta hydroxybutyrate, lactate, and much more.
This feedback is then instantly uploaded and available to Bluetooth capable devices. The Keto Reader app will provide suggestions based on this feedback for how you can alter your diet and exercise program to achieve a specific fitness goal such as performance or weight loss.
The Keto Reader is currently in production and the first prototype is set to launch early next year.
To get more information on the Keto Reader and to receive updates on its production, please visit the blog of William Byrd. To learn more about William Byrd, visit Elitetrainingboston.com.
CONTACT INFO
150 Belmont St,
Boston, MA
02472, USA
Phone: 617-505-2627
E-mail: will@elitetrainingboston.com