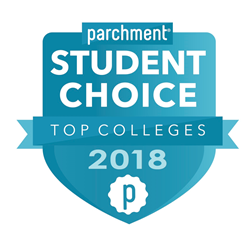 "We are excited to release our seventh annual college rankings, revealing the choices of an increasing number of college-bound students nationwide," said Parchment's Chief Executive Officer, Matthew Pittinsky, Ph.D.
Scottsdale, Arizona (PRWEB) September 05, 2017
Parchment, the industry leader in academic credentials management, has announced the results of its 7th Annual Parchment Student Choice College Rankings study, which compares 848 colleges and universities using the self-reported choices of nearly 88,000 first-year, college-bound students throughout the US. These college rankings are unique as the only study that reveals college preferences and enrollment decisions as reported from actual college-bound students.
Each year, high school students send multiple college applications and eagerly wait near their mailbox or email inbox for those highly anticipated admissions decisions. When students receive multiple acceptance letters, they must make the decision to select a specific school. Using a formula similar to the one used to rank chess masters, Parchment helps decipher the meaning of those student choices.
The 2018 ranking reveals that MIT moved up from fifth to capture the top ranking, edging out Pomona College who dropped to fourteenth on the list. Three new names cracked the leader board: Claremont McKenna College, United States Merchant Marine Academy, and Williams College, which, moved up 49 places to snag second place. In addition, Duke University moved up 24 spots to seventeenth, while Smith College climbed 40 spots to number 20.
More liberal arts colleges moved up the ranks this year. California had the most schools ranking in the top 50 with nine institutions, with Massachusetts coming in second with five schools. There is a total of nine new schools that made the top 50 this year compared to last: Brigham Young University-Provo, American University of Paris, University of Northwestern Ohio, University of Waterloo, Evangel University, Texas A & M University-Galveston, United States Merchant Marine Academy and Claremont McKenna College.
"We are excited to release our seventh annual college rankings, revealing the choices of an increasing number of college-bound students nationwide," said Parchment's Chief Executive Officer, Matthew Pittinsky, Ph.D. "This year, students reported a total of 67,333 school-to-school matchups, further growing the seven-year total matchups to over 330,000."
Parchment's college rankings are pulled directly from students using the college admissions tools on Parchment.com. The Parchment website is a free, online resource helping students and parents research colleges, discover their chances of admissions and see how they stack up with their peers.
Employing an Elo Ratings System, where all colleges are classified as equals, Parchment's Student Choice College Rankings methodology puts schools in a head-to-head bracket, where they earn points based on a student's attendance or lose points if they are not selected in the matchup. Parchment then takes into account a college's ranking, awarding more points for colleges that are chosen unexpectedly and fewer points for those schools that would be considered predictable picks. At the end of each school year, Parchment then reviews the total points each school has earned to arrive at its rankings for the following year. Schools were eligible for the 2017 Student Choice College Ranking when they had 50 or more matchups all time.
The Top 25 Student Choice Colleges for 2018 include (ranking from the prior year in parenthesis):
denotes not on list last year*
Massachusetts Institute of Technology (5)
Williams College (51)
Stanford University (8) (up 5)
United States Air Force Academy (2)
Claremont McKenna College*
United States Military Academy (3)
Columbia University in the City of New York (t-13)
Bowdoin College (11)
t-8. United States Merchant Marine Academy*
Yale University (17)
United States Naval Academy (4)
Princeton University (16)
Caltech (6)
Pomona College (1)
Brown University (10)
Dartmouth College (12)
Duke University (41)
Texas A & M University-Galveston (23)
University of California, Berkeley (15)
Smith College (60)
United States Coastguard Academy (9)
University of Chicago (up 33)
University of Virginia (32)
Rice University (28)
Evangel University*
For more information about Parchment or to view the complete 2018 Parchment Student Choice Rankings, please visit our College Rankings.
Parchment is the most widely-adopted academic credential management system available, allowing learners, academic institutions, and employers to request, verify, and share credentials in simple and secure ways. The platform has helped millions of people and thousands of schools and universities exchange more than 20 million transcripts and other credentials globally. Founded in 2003, Parchment Inc. is headquartered in Scottsdale, AZ, with offices in Roseville, CA, Denver, CO, Grand Rapids, MI, Toronto, ON and Washington, DC. Follow Parchment on Twitter, Facebook and LinkedIn.