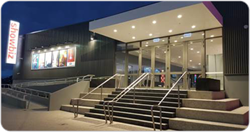 BALLARAT, Australia (PRWEB) September 12, 2017
Christie® is pleased to announce that Showbiz Cinemas Ballarat has chosen the Christie CP2208-LP 3DLP® laser phosphor cinema projectors to be deployed in all auditoriums to deliver the latest Hollywood blockbusters and alternative content for movie-goers in suburban Australia.
Located in the new Delacombe Town Centre complex in Ballarat, Victoria, this contemporary 530-seat cinema complex comprises six screens and features luxury seats, surround sound and wall-to-wall screens, with the largest screen in Cinema 1 hall measuring 10 metres wide. With this installation, Showbiz Cinemas Ballarat has become the first cinema in Australia to be entirely fitted with Christie CP2208-LP cinema projectors, which provide high reliability and lower maintenance costs for theater owners. The cinema has commenced commercial screenings on August 31.
"Being a regional Cinema, it is important for us to choose a system that would have no need for lamp replacements, and reduce the costs and time associated with maintenance, consumables and downtime of lamp-based projectors," said Chris Jones, Director, Showbiz Cinemas. "With the added bonus of reduced power usage that the CP2208-LP has over other digital cinema projectors, our systems integrator MGS Group pointed us in Christie's direction and helped us see the clear advantages that the CP2208-LP would have in a regional environment."
Delivering up to 11,000 native lumens of brightness for screens up to 35 feet, the 3D-capable Christie CP2208-LP is virtually maintenance free with no lamps to change, offers a low total cost of operation, and a low carbon footprint for theater owners. It is available as a complete system with the optional Christie IMB-S2 integrated media block and also works with other, popular Series-2 IMBs. It delivers superior content flexibility as its counterparts in Christie's cinema portfolio with its ability to display DCI content, alternative content, 3D content and even content produced for display at high frame rates.
Besides Showbiz Cinemas Ballarat, independent exhibitor Sun Theatre has also installed two CP2208-LP cinema projectors at its Metro site in Yarraville, Victoria. Known for its rich heritage, the iconic theatre now boasts 700 seats in eight exquisitely-furnished boutique cinemas featuring club seating with leather upholstery, a coffee table shared between all seats in each group, and ample legroom. The cinema, whose projection equipment is also installed and supported by MGS Group, has been using Christie cinema projectors for decades.
Michael Bosworth, General Manager, Christie Australia, said, "We're delighted that independent exhibitors such as Showbiz Cinemas Ballarat and Sun Theatre have placed their trust in our CP2208-LP cinema projector, which marks a new level of digital projection. It is capable of illuminating screens in DCI compliant colour, supports various alternative content sources through dual HDMI-over-DVI ports, and delivers images on the screen that are bright and engaging. The CP2208-LP can display a full range of content, from the latest Hollywood blockbusters to locally produced content from all over the world."
Lin Yu, Vice President, Christie Asia Pacific, added, "The CP2208-LP is the clear choice for independent exhibitors, local art houses in remote locations where accessibility can be difficult for lamp maintenance. We are very pleased that Showbiz Cinemas Ballarat has embraced this high-value and DCI-compliant digital cinema projector."
All six auditoriums are fitted with luxurious seats for a comfortable movie experience
Besides laser phosphor illumination, Christie's RGB laser projection technology is rapidly gaining followers around the world. Producing the brightest images, the purest colours and the best 3D visual experiences, it represents the pinnacle of laser-illuminated projection. In Australia, HOYTS Chadstone in Melbourne is the first cinema complex to be equipped with Christie's RGB laser projection system with enhanced wavelength diversity, which offers a spectacular 3D viewing experience on silver screens.
About Showbiz Cinemas
Showbiz Cinemas is an independent cinema exhibitor located in Victoria, Australia. It currently operates two cinemas in Swan Hill and Ballarat, which has a total of nine screens. For more information, please visit http://www.showbizcinemas.com.au.
About Christie
Christie Digital Systems USA, Inc. is a global visual and audio technologies company and a wholly-owned subsidiary of Ushio Inc., Japan (JP:6925). Consistently setting the standards by being the first to market some of the world's most advanced projectors, complete system displays, and cinema audio solutions; Christie is recognized as one of the most innovative visual technology companies in the world. From retail displays to Hollywood, mission critical command centers to classrooms and training simulators, Christie display solutions and projectors capture the attention of audiences around the world with dynamic and stunning images, accompanied by awe-inspiring sound. Visit http://www.christiedigital.com.