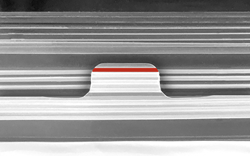 Carol Stream, IL (PRWEB) September 05, 2017
Brand owners, converters, original equipment manufacturers (OEMs) and co-packers will also see the full range of proven Zip-Pak resealable technologies. Visit Zip-Pak at Pack Expo in the Las Vegas Convention Center, Las Vegas, NV, September 25-27 at Booth C-4014.
Tab-Lok™ is a new Zip-Pak child-resistant reclosure for the flexible packaging industry which recently obtained Conformity of Packaging according to both US 16 CFR 1700.20 and ISO 8317 standards from IVM-childsafe. This designates it an accredited child-resistant resealable solution throughout the United States and Europe.
Tab-Lok™ is a solution that is cost-effective and easily integrates into a customer's current manufacturing operations, without significant changes to equipment or capital investment.
Tab-Lok™ offers a unique press to close solution streamlining the opening process that is unlike the multi-step slider options currently on the market. The key differentiator of Tab-Lok™, as the name implies, is the unique tab mechanism used to open and access the package contents. The zipper profile features a small tab that the consumer utilizes to open the zipper during first and subsequent uses of the package. Although the unique tabbed profile provides deterrence for younger children, it's proven to provide easy accessibility for older consumers often challenged by child-resistant packaging.
"Tab-Lok™ enables many products traditionally available only in rigid containers to now consider flexible packaging as a viable and compliant alternative," commented James Cooley, National Sales Manager for Zip-Pak, and project manager for the Tab-Lok™ initiative. "Pharmaceuticals and nutraceuticals are good examples. Whether a consumer requires 10, 20, or 50 capsules, often the same sized rigid package is used to accommodate all quantities. A flexible child-resistant option opens the door to packaging that can be customized to a specific quantity." He added, "Detergent pods and other potentially dangerous home and garden products would also be great candidates for Tab-Lok™."
ZIP-PAK ACCELERATES CHILD-RESISTANT INNOVATION PIPELINE
In addition to Tab-Lok™, Zip-Pak is nearing introduction of another unique child-resistant resealable design that incorporates a slider. Visitors to Zip-Pak's Pack Expo booth can preview this exclusive prototype. Zip-Pak anticipates that this new closure will be commercially available by end of 2017.
ENGINEERING & INNOVATION CENTER SCHEDULED TO OPEN SOON
The new child-resistant solutions come in conjunction with Zip-Pak's recently announced new Engineering and Innovation Center (EIC) scheduled to open in late 2017 at its Carol Stream, IL headquarters. The EIC will centralize the company's product innovation and core business functions under one roof, placing engineering and innovation in a strategic location close to core U.S. manufacturing facilities, as well as key customers and suppliers.
ZIP-PAK'S FULL LINE OF FLEXIBLE, RESEALABLE SOLUTIONS ON DISPLAY AT PACK EXPO 2017:

Easy-Open DuraZip™: Designed for large package formats, Easy-Open DuraZip™ allows the consumer easy first time opening, and a durable press-to-reclose zipper for resealability. The highly burst-resistant Easy-Open DuraZip™ is compatible with both laminate or poly woven films, and can be readily applied on large format pouch making equipment, making it an ideal solution for pet food, lawn and garden, and food service bulk products.
ZIP360®: The ZIP360® package format features a single length of zipper that runs 360 degrees around the perimeter of the package with no seals required at either end, such as on conventional zippered bags. This is accomplished through the use of Zip-Pak's Vector™ resealable matrix zipper that is engineered to seal to itself, thus eliminating the need for conventional male and female strands. With no seals on each side, the result is a markedly wider opening that provides consumers with greatly increased product access, as well as enhanced pourability.
Inno-Lok™: Inno-Lok™ fasteners, available exclusively from Zip-Pak, allow brand owners to simply and cost effectively add a reclose feature to flexible packages produced on vertical form, fill and seal equipment. Converters apply Inno-Lok™ zippers during the film production process, with the pre-zippered rolls allowing production of recloseable packages without changes to seal bars or additional capital required. It can be used for barrier and non-barrier packaging applications. Visitors to Zip-Pak Booth C-4014 can preview the latest innovation from the makers of Inno-Lok™.
Fragrance-Zip™: Fragrance-Zip™ is designed to emit a customized aroma upon initial and subsequent openings of a flexible resealable package. The scent is embedded in the reclosure during the manufacturing process. Through a close partnership with several fragrance companies, Zip-Pak has the ability to duplicate virtually any desired aroma, enabling a package to replicate the scent whenever opened. This versatile fragrance technology may be incorporated into several packaging styles.
Zipper Tape™: Zipper Tape™ is ideal for low-density polyethylene (LDPE) packaging requiring a hermetic seal. This versatile method of resealability is an ideal way to add a consumer-preferred opening feature as well as a high quality resealable feature to polyethylene bags used in frozen, refrigerated or other applications.
Powder Resistant: Powder Resistant zippers provide a clog resistant reseal alternative for powdered products and particulates. They are designed for seamless integration with most packaging applications, including horizontal and vertical form, fill and seal machinery, as well as pouch-making equipment. Powder Resistant zippers are ideal for powdered milk, pancake mixes, flour, corn starch and other baking goods.
ZIP-PAK SOLUTIONS TO RUN AT 10 PACK EXPO EXHIBITS
The following exhibitors will be running Zip-Pak zippers on their equipment at Pack Expo 2017, allowing attendees a first-hand experience of Zip-Pak resealable solutions in terms of quality, construction, and performance:
EXHIBITOR NAME BOOTH #
BOSCH C-2800
M-TEK, INC. S-6002
PACMAC C-3883
TRIANGLE C-2614
VELTEKO/ALLIEDFLEX C-4540, C-4640
PPI TECHNOLOGIES C-4840
SN PACKAGING C-4842
SUN CENTRE USA S-7490
PRO-PAC SERVICES S-7373
ZIP-PAK WELCOMES MEMBERS OF THE PACKAGING MEDIA
Zip-Pak cordially welcomes writers, editors and publishers of the international packaging media at Pack Expo 2017, and is currently scheduling press appointments. To schedule a meeting or interview, please call Ilena DellaVentura at 908-534-9044, or email idellaventura(at)delianet.com, with the Subject "Zip-Pak Media Request." Drop-ins also are welcome to visit the company at Booth C-4014.
# # # #
ABOUT ZIP-PAK
Zip-Pak is a division of Illinois Tool Works (ITW), a Fortune 200 company that is one of the world's leading diversified manufacturers of specialized industrial equipment, consumables and related service businesses. Serving customers and markets around the globe, they have a significant presence in developed and emerging markets, and offer a complete range of resealable closure services solutions, application machinery and solutions technical solutions. Zip-Pak holds over 400 closure and related patents worldwide, and offers the most comprehensive portfolio of resealable zipper solutions.
The company operates in more than 52 countries around the world with a workforce of more than 270 dedicated flexible packaging professionals. These talented individuals adhere to the highest professional standards and focus their efforts to meeting and exceeding the needs of every Zip-Pak customer. Combining this commitment to customers' success with their technical innovation and unmatched network of resources enables them to confidently and consistently deliver "uniquely flexible" solutions. For more information about Zip-Pak, please visit: http://www.zippak.com.
For additional press information, please contact:
Ilena Della Ventura
Delia Associates
E: idellaventura(at)delianet(dot)com
T: 908-534-9044