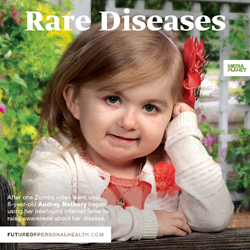 New York (PRWEB) September 01, 2017
Rare Diseases affect 30 million people in the United States and 350 million people globally. Mediaplanet's cross-platform edition of "Rare Diseases" calls upon researchers, companies, policy makers and clinicians to do more research and to make readers aware of the importance of advocating for the rare disease community.
Internet sensation Audrey Netherly graces the cover of the print edition. Netherly, a child diagnosed with Diamond Blackfan Anemia (DBA), is full of energy and hope. In an exclusive interview with Mediaplanet, her mother, Julie Haise, opens up about Audrey's condition and lifestyle: "We know there may not be a cure but she can live a normal life," says Haise. Netherly has over 1.4 million followers on Facebook and over 250,000 on YouTube, where she uses her social media popularity to raise awareness of DBA.
The print component of "Rare Diseases" is distributed within today's edition of USA Today in New York, San Francisco, Chicago, Boston, and Washington DC/Baltimore markets, with a circulation of approximately 250,000 and an estimated readership of 750,000. The digital component is distributed nationally through a comprehensive social media strategy and across a network of top news sites and partner outlets. To explore the digital version of the campaign click here.
This campaign was made possible with the support of NORD, Boehringer Ingelheim, Cytokinetics, Capricor Therapeutics, PTC Therapeutics, Sucampo Pharmaceuticals, XpertDox, Children's Hospital of Pittsburgh of UPMC, Rare Disease United Foundation, Rare Disease Foundation, National Institutes of Health: The National Center for Advancing Translational Sciences, Chloe's Fight Rare Disease Foundation and Cheyanna's Champions 4 Children.
About Mediaplanet
Mediaplanet is the leading independent publisher of content marketing campaigns covering a variety of topics and industries such as Health, Education, Lifestyle, Business and Technology, and Corporate Social Responsibility. We turn consumer interest into action by providing readers with motivational editorial, pairing it with relevant advertisers and distributing it within top newspapers and online platforms around the world. Please visit http://www.mediaplanet.com for more on who we are and what we do.
Press Contact:
Sarah Wasser
sarah.wasser(at)mediaplanet.com
(646) 979-2831