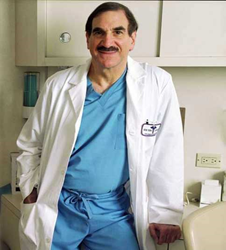 New York, NY (PRWEB) September 05, 2017
Stuart J. Froum DDS, in New York, New York, is excited to launch its new Hybrid-Responsive™ Website: https://www.drstuartfroum.com/.
According to Dr. Stuart J. Froum, the founding dentist at Stuart J. Froum DDS, PC, "Patients are increasingly relying on the Internet to find out more information about their dentist and what kinds of services they provide. For many of our patients, we've been recommended to them through word of mouth over the past 40+ years. We wanted these patients and others to be able to learn about our experience, expertise, and services easily. Whenever and wherever they want to read it."
The new Hybrid-Responsive™ website lets patients book appointments online, learn about available services, check out impressive before and after photos, and read through reviews and testimonials posted on third party websites. Since Dr. Stuart J. Froum regularly lectures and writes about his dental implant and surgical experience, patients can find the dates of upcoming lectures and courses on the website.
Dr. Stuart J. Froum has practiced as a dentist and periodontist for more than 40 years. He is widely published, with more than 165 peer-reviewed scientific articles in reputable journals and books. Outside of the practice, Dr. Stuart J. Froum serves as the Clinical Professor of Periodontics and Implant Dentistry and the Director of Clinical Research at the Department of Periodontics and Implant Dentistry at New York University's Dental Center. He is also a Fellow of the International College of Dentists and serves on the research committee of the American Academy of Osseointegration.
Many patients schedule appointments with Dr. Stuart J. Froum to correct previous dental work that they are unhappy with in terms of the appearance and function of their gums, dental implants, and teeth. He is sought after because of his work with business executives and celebrities, who want the most modern and least invasive treatments available.
With so much going on, the new website is a centralized place to store all of this information. As Dr. Froum points out, "Our practice performs such a wide range of services. Not only do people want to know what's available, they want to see proof that the quality is what they're looking for. The new website accomplishes that."
About Dr. Stuart Froum
Dr. Stuart Froum is a leading dental provider in the Midtown area of New York, New York. With more than 40 years of experience, Dr. Stuart Froum specializes in resolving complex periodontal problems, implant complications and bad breath treatment. To learn more or to request an appointment, call (212) 586-4209 or visit the office at 17 West 54th Street, Suite 1 C/D, New York, New York 10019. You can find more information about the practice and its services at https://www.drstuartfroum.com/.