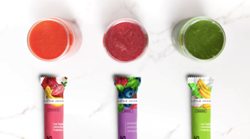 Having a healthy diet is not easy with the current busy lifestyle, there are too many additives and sugars put into our everyday food.
San Francisco, CA (PRWEB) September 01, 2017
Little Juice is a natural blend of powdered freeze-dried juices that is boosted with antioxidants, probiotics, and bioavailable Vitamin-C. Little Juice uses Nutrition-lock Technology™ to freeze dry their high-quality, farm-fresh produce without sacrificing the food's high nutritional values. The Little Juice team has raised almost one-third of their funding goal with 20 days still to go on Kickstarter.
Most bottled juices on the market are pasteurized to increase shelf life, but during this process some of the important vitamins are greatly lost. Little Juice has more antioxidants and nutrition than most juices on the market and is non perishable. It comes in convenient single-serving packs so there is no measuring involved and no mess. One single-serving of Little Juice is packed with a person's daily serving of fruits and vegetable. It is a great nutritious grab-and-go snack or beverage. Just mix the powder with water for a delicious and refreshing glass of juice, anytime. There are no added sugars, artificial ingredients, flavorings, preservatives, GMO's, and is gluten free. Each serving of Little Juice is boosted with 1 Billion cfu probiotics to aid digestive health.
"We are thrilled to have finally launched Little Juice. Having a healthy diet is not easy with the current busy lifestyle, there are too many additives and sugars put into our everyday food. Little Juice is born around this concept of getting your nutrition fulfilled on-the-go." said Teddy The, Little Juice founder. "I have a background in robotics and I'm really interested in any way that I can incorporate that into Little Juice and attempt to further the food industry into a more sustainable future."
There are so many things that can be done with Little Juice. Little Juice can be added to a morning smoothie or an acai bowl for added flavor and nutrients. After fruits and vegetables are harvested, their nutrients begin to break down. By the time those fruits and vegetables get to the store they lack many of the key nutrients they started out with. Little Juice uses their Nutrition-lock Technology™ that is based on freeze-drying to lock in the nutrients immediately.
Little Juice is currently available for pre-order exclusively on Kickstarter. Early adopters can back Little Juice for as low as $36 for a 12-pack of Little juice. Little Juice comes in three flavors: Strawbana, Berry Mix, and Supergreens. For more information, visit bit.ly/LittleJuiceKS.
About Little Juice
Little Juice offers a line of health conscious and earth friendly juices. They use their farm-to-table idea to deliver the highest nutrition, low sugar juices with sustainability in mind, minimizing food wastage and eliminating refrigeration needed. Teddy The and Hemant Joshi are the founders of Little Juice. The idea of Little Juice was created after they had bonded over their passion for nutrition and daily dose of smoothies. For more information, visit http://www.littlejuice.com.