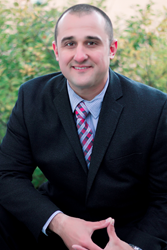 (PRWEB) September 07, 2017
Carousel Industries, a leader in communication and network technologies, professional and managed services, and cloud solutions, today announced it has named Jason Albuquerque as its first Chief Information Security Officer (CISO). Albuquerque, Carousel's Director of Business Systems and Operations since 2014, will report to Bill Thompson, Carousel's Executive Vice President of Operations.
Albuquerque's primary focus will be to establish a comprehensive Security Office as a center of excellence for Carousel while partnering with the company's Pre-Sales Engineering team to identify and develop new client engagements in cyber-attack prevention. As CISO, he will also lead the assessment, evaluation, prioritization and mitigation of the internal and external security threat to Carousel's services, network infrastructure and business information systems.
"Jason Albuquerque's appointment to the CISO positions at Carousel underscores the growing global importance of this strategic role to enterprises in all industries," said Bill Thompson, Carousel's Executive Vice President of Operations. "In his new role, Jason is already leading the charge to build an informed organizational culture of cyber security, further positioning Carousel as the vanguard for our customers and creating an unbreakable relationship forged by credibility and trust."
"Globally, cyber-attacks of all types are escalating as more sophisticated tactics are being deployed to elude traditional security controls," said Albuquerque. "Manufacturers, suppliers, partners and service providers are all under greater scrutiny than ever from their clients and from one another to apply increased governance, improved processes and enabling technologies to reduce and mitigate threats. This dynamic presents interesting challenges as well as significant business opportunities and I look forward to guiding our clients' cyber security initiatives and further expanding our security practice."
About Carousel Industries
Carousel Industries is a recognized leader in helping organizations evolve the way they communicate and orchestrate the flow of information throughout their networks. Carousel enables clients to connect and collaborate the way modern IT users demand and advance from their current network infrastructure to meet tomorrow's standards. With deep expertise across a vast portfolio of communication, network, and security technologies, Carousel is able to design, implement, and support solutions tailored to meet the unique needs of each customer. By offering professional and managed services with flexible deployments in the cloud, Carousel ensures clients achieve agility and utilize technologies in the way most effective for their business.
Founded in 1992, Carousel serves more than 6,000 clients, including 35 of the Fortune 100. Carousel has been recognized by multiple publications and industry consortiums as a top technology integrator, managed services and cloud solution provider–including the Inc. 500/5000, Healthcare Informatics 100, and CRN MSP Elite 150. Headquartered in Exeter, RI, Carousel has 27 offices nationwide–with three Network Operating Centers.