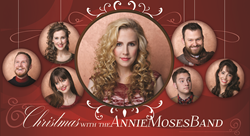 The perfect way to get in the holiday spirit.
Nashville, TN. (PRWEB) September 03, 2017
PBS sensation and Emmy Award-winning folk artist, Annie Moses Band, well-known for their fiery string playing and soulful renditions of beloved American songs on the stages of Carnegie Hall and the Opry, are bringing their special brand of holiday cheer across America. From Tennessee to Maryland, Georgia to Ohio, Texas to Michigan, the sibling members of Annie Moses Band will entertain and delight audiences all over! The tour extends from November 26th through December 23rd.
Christmas With Annie Moses Band is a perennial holiday favorite and stands on the PBS charts as one of the most played specials of the season. A flurry of holiday classics, Christmas with the Annie Moses Band is a spirited lineup of holiday songs and carols. From the band's signature renditions of 'God Rest Ye Merry Gentlemen', 'Jingle Bells' and 'Carol of the Bells' to the breathtaking beauty of 'O Holy Night', this evening of music is invigorating, reverential, and transporting.
Families, couples, and people of all ages will relish the beauty of this enduring music infused with that unmistakable vocal/instrumental sparkle that makes the Annie Moses Band so unforgettable. Christmas with Annie Moses Band is the perfect way to get in the holiday spirit, so don't miss out on this evening of musical cheer. Have a very merry Christmas With Annie Moses Band!
Tour begins November 26th and extends through December 23rd. Tickets & Info are available at http://www.anniemosesband.com/tour. Full tour list below.
Press Contact: Samuel J. Stephens - Asst. Manager - sam(at)manalive.me
ANNIE MOSES BAND CHRISTMAS TOUR 2017
Toccoa, GA - Sunday, Nov 26
Dayton, OH - Tuesday, Tuesday Nov 28
New Philadelphia, OH - Wednesday Nov 29
Waynesboro, VA - Thursday Nov 30
Cherryville, PA - Friday Dec 1
Frostburg, MD - Saturday Dec 2
Somerville, NJ - Sunday Dec 3
Greenwood, SC - Tuesday, Dec 5
Jackson, TN - Thursday, Dec 7
Maumelle, AR - Friday, Dec 8
Alma, AR - Saturday Dec 9
Broken Arrow, OK - Sunday Dec 10
The Woodlands, TX - Monday, Dec 11
Nacogdoches, TX - Tuesday, Dec 12
Austin, TX - Wednesday, Dec 13
Springfield, MO - Friday Dec 15
Council Bluffs, IA - Saturday, Dec 16
Buford, GA - Tuesday Dec 19
Evans, GA - Wednesday Dec 20
Oxford, AL - Thursday Dec 21
Franklin, NC - Friday, Dec 22
Plymouth, MI - Saturday, Dec 23