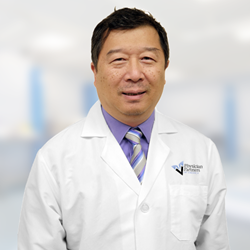 New Port Richey, FL (PRWEB) September 03, 2017
With the recent passing of Dr. Hui Zhu, M.D., a highly regarded pain management physician with practices in New Port Richey and Brandon, the Tampa Bay medical community has been left with a large void.
In addition to his private practice in New Port Richey, Dr. Zhu worked with Physician Partners of America founder Rodolfo Gari, M.D., for many years, including at the company's interventional pain management practice in Brandon. When Dr. Zhu suddenly passed away July 30, Physician Partners decided to honor the dedication, commitment and service that Dr. Zhu gave to each of his patients by assuming management of his practice at 5304 Main Street, New Port Richey, FL 34652 starting Sept. 5.
Dr. Zhu's patients may call 727-312-0388 to schedule an appointment or to retrieve medical records. Patient hours are from 9 a.m. to 5 p.m. weekdays with same-day appointments available. Dr. Gari, PPOA Nurse Practitioner Tracie Lawson, and Dr. Zhu's longtime Nurse Practitioner Sharon Blue will manage the practice for the foreseeable future.
Physician Partners of America is honored to continue Dr. Zhu's legacy of serving the people of Pasco County.
About PPOA:
Founded in 2013 and headquartered in Tampa, Fla., Physician Partners of America (PPOA) is a national healthcare organization focused on strengthening the doctor-patient relationship and improving patient outcomes. PPOA and its affiliates share a common vision of ensuring the well being of patients and providing their physician partners the opportunity to focus on the practice of medicine. This model allows physicians to be physicians, caring about patients and their needs in the face of increasingly complex administrative requirements. For more information about Physician Partners of America, visit http://www.physicianpartnersofamerica.com.