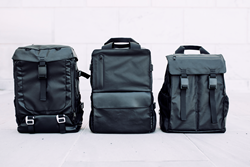 With the Hadley Series, we wanted to simplify the functionality down to its core features to deliver a streamlined experience that was led by peoples' needs, not just creating a bag with a million functions," said Co-founder, Brandon Kim
Boston, MA (PRWEB) September 12, 2017
Today, Brevitē, developer of functional and versatile everyday-carry backpacks, announced its return to Kickstarter with the Hadley Series, which includes three different daily-carry backpacks offering backers the opportunity to choose the pack that best fits their life adventures. Taking a different approach to the current landscape of bulky everyday-carry backpacks, the Hadley Series' minimalist design and sleek look balances form and functionality by incorporating Brevite's unique removable insert system to deliver more adaptable solutions for daily uses. Brevite is offering early bird backer packages starting at $150.00 and can be found on Kickstarter here: https://goo.gl/xvK3KE.
Cofounded by three brothers from Boston, M.A., Brandon, Dylan and Elliot Kim, Brevite often finds its growing product line up reflects the diverse demands of its founders. The company's flagship backpack was designed to easily transition from a working photography pack to a slim and sleek everyday-commuting bag for the then students. This functional appeal continues with the new Hadley Series.
Brevite was able to edit the Hadley Series to its essence by creating a modular insert that can be simply swapped in or out of the core pack based on the day's unique demands. While its previous packs have featured a similar removable component, Brevite completely redesigned the insert to allow it to be carried as a standalone cross-body bag, simply by clipping on the optional magnetic-buckle camera strap. The new inserts is also features weather-sealed zippers to protect valuable gadgets or photography gear packed amongst its customizable padded interior dividers. The insert can be swapped through the main access point, situated on the rear panel for increased security, or the top-loading quick-access points on each bag. The streamlined insert still has the capacity for a DSLR camera with attached lens, an extra camera body, and two added lenses with space remaining for cords and accessories; alternatively, the insert can accommodate a change of clothes for the gym, the day's snacks, or any other gear that requires some added protection.
All three backpacks in the Hadley Series share some core features. The rear panel of the backpack includes a TSA-friendly padded laptop sleeve to safeguard up to a 15" device. Brevite backpacks have always been known for their all-day comfort, and these new offerings are no different. Each Hadley pack features a padded, moisture-wicking back panel and contoured-padded straps which slightly bow out at the top to conform to the body. Cap each model with weather-proof external zippers, and the Hadley backpacks are ready for just about any conditions. While the three models share these core features, the Hadley models come in a variety of size, design and style alternatives to meet the diverse nature of life's explorations.
"With the Hadley Series, we wanted to simplify the functionality down to its core features to deliver a streamlined experience that was led by peoples' needs, not just creating a bag with a million functions," said Brandon Kim, lead designer and one of the three brothers who cofounded Brevite. "We've seen dozens of bags entering the market loaded with bells and whistles, without offering the true functionality everybody needs; so we focused on a simple, intuitive and stylish design that hits the core needs of the users."
To help customers find the ideal size, layout and functionalities they need in a daily carry pack, the Hadley Series is being offer in three incremental models.
The Hadley Roamer (Pricing $150 – Estimated MSRP $220)
The largest offering in the Hadley Series line, the Roamer, offers a lightweight bag of 17 liters that is ideal for the daily commute or textbook-laden student, and its drawstring top can easily expand to 20 liters to accommodate gear for an afternoon hike. Its lightweight nylon exterior and YKK weather sealed zippers make it ideal for anyone who may catch a spot of rain, and the magnetic Fidlock® closure on the top flap makes accessing the main compartment simple. A large front compartment running the full length of the Roamer includes layered organizational pockets for smaller items such as chargers and cables. The Roamer also features numerous exterior attachment points including bottom-mounted dual utility buckles ideal for stowing a yoga mat or tripod, as well as compression straps and mesh pockets on both sides of the pack for a water bottle or something more substantial.
The Hadley Runner (Pricing $150 – Estimated MSRP $220)
For those looking for an even slimmer option, the Runner has been edited even further to make a sleek street pack for those with a more petite build. Its no-seam construction makes for a less rigid look that also allows the Runner to fold flat for packing in a larger suitcase. Featuring a 16 liter main compartment that is augmented by two large exterior pockets running the full length of the pack's front panel, the Runner can accommodate a Brevite insert with plenty of room for added gear. A zippered pocket crowns the twin Fidlock-buckled top flap, which opens to the easy-access main compartment, and mesh side pockets can accommodate a water bottle.
The Hadley Scout (Pricing $150 – Estimated MSRP $220)For the fashion-savvy tech carrier, the Scout is the most conservative design of the entire Hadley Series offering clean exterior lines that can fit universally with the day's wardrobe selections. The front of the pack is broken into a vertically-oriented zippered pocket on top, with a second larger lower pocket featuring magnetic closures for quick access. The top-load access features a tote-style carrying handle made from materials similar to a seatbelt, so it can comfortably swing from shoulder to tote when jumping the train. The main compartment offers 16 liters of open space, which can accommodate a Brevite insert with room to spare, and a hidden interior pocket safeguards the most important items like passports or cash.
Availability
The Hadley Series is now available on Kickstarter with early bird packages starting at $150.00. For more information on the product line or to support this campaign, please visit: https://goo.gl/xvK3KE.
About Brevitē
Founded by three brothers from Boston, M.A., Brevitē designs functional travel accessories to help people explore the world and discover life. Valuing protection without sacrificing honest design, Brevitē first brought its flagship backpack to market with the help of a dedicated Kickstarter backing in 2015. The company has continued to diversify its product offerings that continue to appeal to a fashion-savvy and adventurous customer base. For more information on Brevitē please visit http://www.brevite.co/.
###