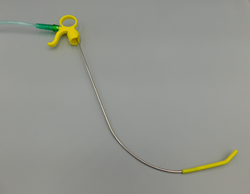 The J-Wand's flexible introducer tip helps to guide the ETT towards difficult anterior airways more effectively than current stylets and standard flexible stylets, and supports apneic oxygenation
Farmville, NC (PRWEB) September 05, 2017
D R Burton Healthcare LLC, makers of respiratory, EMS and operating room products, is attending The American Association of Nurse Anesthetists (AANA) in Seattle, WA on September 8-12, 2017. The patent-pending D R Burton J-Wand™, a Semi-Rigid Intubating Stylet for Difficult Intubations, will be displayed for clinical survey feedback at the AANA booth #925.
D R Burton is a medical device innovator driven by unique clinical perspective to provide superior outcomes. The J-Wand was developed by Certified Registered Nurse Anesthetist, Jay Annis, who is also D R Burton's Vice President of Anesthesia. This innovative design easily and reliably facilitates placement of an endotracheal tube (ETT) during difficult intubations.
The J-Wand stylet employs an anatomically inspired curved rigid stainless-steel stylet with flexible introducer tip. This combination speeds time to intubation, while also reducing risk of airway trauma, and improving patient safety. Mr. Annis has stated, "The J-Wand's flexible introducer tip helps to guide the ETT towards difficult anterior airways more effectively than current rigid stylets and standard flexible stylets. It also gives practitioners the option of providing each patient direct apneic oxygenation during the intubation process."
The J-Wand supports direct laryngoscopy or video laryngoscopy, and also features an apneic oxygenation port. Using apneic oxygenation techniques during difficult intubations can safely prolong the duration of apnea without desaturation. The J-Wand is packaged sterile, is disposable, and is a single patient use product.
Annis adds, "Our company's focus and mission is rooted in the goal of creating value based medical devices that improve patient safety and outcomes. We're pleased to develop the J-Wand for intubations across all care settings, including anesthesia, emergency departments, intensive care units, EMS services, and all non-hospital settings where proper airway management is paramount."
The J-Wand's patent-pending stylet will be displayed for clinical survey feedback at the AANA Congress. Jay Annis will be meeting with clinicians to discuss this product and other innovative concepts at the AANA Booth #925, on September 8-12, 2017 in Seattle.
About D R Burton Healthcare LLC
D R Burton Healthcare LLC, innovators in medical devices, was founded by clinicians with deep expertise in anesthesia and respiratory care. Together we design, develop and market medical device products that allow patients to heal faster and provide value to our partners and consumers. Our unique clinical perspective drives our unwavering commitment to provide clinicians and their patients with a world class user experience. For more information, please visit http://www.drburtonhpi.com