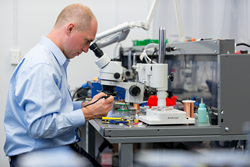 Houston, TX (PRWEB) September 05, 2017
As part of the company's way of helping people affected by hurricane Harvey, Outsource Data Recovery has announced its offer of a free hard drive repair service for devices affected by water damage. The offer is scheduled to last until September 30th, ensuring that victims of the disaster get a chance to recover their vital information.
Outsource Data Recovery is a popular data recovery and hard drive repair service provider based in Cleveland, Ohio. The company offers a wide range of data recovery services and HDD repair service, at remarkably affordable rates.
The company as part of its corporate social responsibility and in a bid to give back to the community is helping victims of the infamous Harvey Hurricane recover as much as possible of their vital information. The company is offering its hard drive repair service for free, allowing victims of the disaster restore their information off of the device.
The offer is restricted to devices affected by water damage, with damage limited to printed circuit board (PCB). The PCB repair offered by Outsource Data Recovery does not only help their clients to recover their information, but also saves the victims hundreds to thousands of dollars. This is so they are able to recover their information without paying a dime. They also get to recover information could have been costly to their business if lost.
Outsource Data Recovery is also offering a discounted data recovery service for damages that are more extensive than the free PCB service offer. This ensures that no one is left out of the offer, regardless of the extent of the damage.
The timing of the offer is perfect, considering the extent of damage caused by the hurricane and the somewhat emotional, financial and physical torture that victims of the disaster are already going through.
Described as one of the most reliable data recovery service provider in Ohio, the company offers its services at affordable rates, with an amazing turnaround time. Diagnostics is usually completed within 3 days, with the recovery taking another 7 to 10 days. The turnaround time is not likely to change even during the hurricane Harvey offer and clients can be sure of getting their information back in less than two weeks after submitting their HDD.
Some of the other services provided by Outsource Data Recovery include repair services and computer forensics.
ABOUT OUTSOURCE DATA RECOVERY
Outsource Data Recovery is a data recovery and hard drive repair service provider formed by a team of senior experts in the computer forensics and data recovery industry. Headquartered in Cleveland, OH, the company serves governments, businesses and individuals worldwide, and is a sister company to Donor Drives LLC, the world's largest data recovery parts supplier.
Outsource Data Recovery designs, engineers, and manufacture top of the line data recovery tools and equipment, for industry professionals.