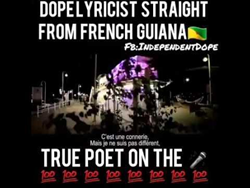 "Life, Ain't as simple as it may seem, Some used to be gangsters foreal, And now they are snitches yea" Marvin Torvic - It Was Written
Sinnamary, French Guiana (PRWEB) September 07, 2017
As the music industry changes by the day, listen and support Marvin Torvic's, new mixtape, Sinn Sina. Marvin, the hot new rapper from French Guiana promoted by Independent Dope on Facebook and other social media needs your help. Help support Marvin, pay what you can at http://www.gofundme.com/marvintorvic
A little about Marvin Torvic: Marvin is a footballer (soccer player), a father and a creative music artist/rapper.
Born in Sinnamary, French Guiana Marvin moved to Maryland when he was 8. He lived there until he was 17. He then moved to live in Aiken, South Carolina. Marvin Torvic graduated from South Aiken High School where he was recruited to play soccer at NCAA Division II Newberry College in Newberry, South Carolina. After college Marvin played with a couple of professional teams in Europe as well as representing his country, French Guiana. He isn't making the big bucks but soccer did manage to support him as he started writing songs and recording them.
Two years ago his daughter, Noliwey, was born, bringing even more happiness and thoughts to his music.
As a creative rap music artist, Marvin raps primarily in English and in Creole. In his music he tells his story, the stories of friends and loved ones and raises important societal issues like trying to remake one's life after a bad turn and sexism in life and in music.
Listen to the his first mixtape, SINN SINA, at:
Or ponder the lyrics of his song:
It Was Written
Yea
Life is a circle n*gga
All that sh*t comes together
Try to listen to the story
Young n*ggaz in my hood don't want to go to school,
They just want to play ball,
you know or make music,
And if it don't work out,
you know they start hustling,
robbing,
some turn addicts and they over dosing,
Life,
Ain't as simple as it may seem,
Some used to be gangsters foreal,
And now they are snitches yea
Me,
I'm just struggling trying to make a living
You lying in your rhymes,
Anything to make a living,
But the truth comes out sooner than later,
Real friends are family,
Fake friends trying to kill you yea,
Learn that and you will be all good,
But I'm not telling you,
That it will be all good nah,
Cause the good and the bad,
sh*t it goes together,
Like the rain and the sunny weather,
Count me in,
never count me out,
This music sh*t,
yea these n*ggaz yea they know me now,
Ima hold it down,
Like a cop on a black suspect,
You know you moving,
Trust Ima shoot you down,
Ima have to do it,
It's as simple as that,
I'm just stating the facts,
You going against the police,
Lay down if you black huh,
I'm a black poet smoking on this potent,
Everything I write sh*t yea,
I see it in the smocking,
Don't want to be the one,
contributing to this violence,
But you know n*ggaz always testing,
So now I'm smith and Wesson,
Chorus:
Every time that I speak,
n*ggaz listen,
God spoke to me,
take advantage of whatever's given,
So I'm grateful
Every time that I speak,
n*ggaz listen,
God spoke to me,
take advantage of whatever's given,
So I'm grateful,
I'm giving 24s with liquor in my system,
Never hesitate to shoot,
Sh*t I tried to coach em,
Now he's gone now,
We sitting pouring liquor for em,
His mama's crying now,
She don't know how to live without him,
But he ain't coming back,
So life goes on,
But it will never be the same,
So you got to move on,
Stay strong,
till the day that you gone,
Yea
Stay strong,
till the day that you gone,
Yea
My n*ggaz go to jail on the regular,
Collect calls,
on my house phone,
And my cellular,
Trying to get news,
on what's happening on the outside,
Me asking,
hoping his representing on the inside,
Keep your head up,
Telling me,
that his working out,
Sh*t yea his working now,
Pick up a routine till the day he comes out,
Reading books,
smoking weed,
trying to pass the time,
But sh*t ain't easy sometimes yea,
his stressing out,
Baby mama coming up always bugging out,
Saying Sh*t don't love him,
Son turn one last week,
and he miss em now,
First words was daddy,
and now he miss em now,
God d*mn,
got to help him out with a good lawyer,
Chorus:
Every time that I speak,
n*ggaz listen,
God spoke to me,
take advantage of whatever's given,
So I'm grateful,
Every time that I speak,
n*ggaz listen,
God spoke to me,
take advantage of whatever's given,
So I'm grateful,
Been years,
since daddy been locked up,
On a ten year stress for murder,
But his coming home soon,
Good news,
But it was long over due,
Cause only contact we had,
Was through phone calls,
letters,
And them visiting days,
Mama acting like,
she don't love him no more,
But I hear her cry late,
when I walk pass her door,
D*mn,
This family been through a lot,
In these past few years,
But I ain't different from none of my peer,
Hear me,
Daddies around my block,
Only 3 options,
Either dead,
or in jail,
Or ghost like Patrick Swayze,
save me,
I'm trying to make the best,
of what you gave me,
I had my uncles as my daddy,
My mother was my granny,
My cousins and I so close,
Sh*t we like blood brothers,
Cause we all grew up,
with our grandmother,
But you the one,
that chose this life for us,
Hug the block like it's ours,
Mama tells me everyday,
that I act like my father,
Rather die like a man,
Then live like a coward get me,
Mental on some other Sh*t,
Follow in my dad's footsteps,
Been to jail a few times,
For a few petty crimes,
Got to earn my stripes right,
Now you see what my life's like,
Daddy coming home soon,
and I hope I made him proud,
Yea
To learn more about Marvin and support his music visit his website and contribute at: http://www.gofundme.com/marvintorvic
Or contact his manager: Tania Sole at tsole(at)ecoslip(dot)org or 415-987-3283