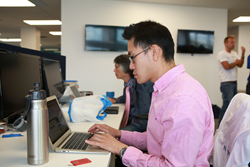 "When I started this company in 2007, as a little Drupal shop, I always envisaged growth, but even I could not have predicted such significant strides in just 10 years..."
Vancouver, B.C. (PRWEB) September 18, 2017
From humble beginnings, an employee list in single figures, and a handful of tiny client contracts, Appnovation has emerged from the early years, and reached their 10 year anniversary milestone, on September 17th. And how different things look, how times have changed, for the better... 
Though the company still holds true to their commitment to Drupal, one of the plinths on which the company was built, the global team of over 250 employees now represent a company that goes way beyond architecture and development, offering digital solutions and ongoing support for the various technologies in which they specialize. 
As the 10th anniversary approaches, the success that has ensued since the early days is not something which breeds complacency. Rather, it is seen as inspiration for, and the building blocks of even greater success, and unrelenting growth rather than self-congratulatory inertia. As the great wartime leader, Sir Winston Churchill put it, "Success is not final; failure is not fatal: It is the courage to continue that counts."
These words are certainly representative of the innovative outlook within Appnovation. As Arnold Leung, Founder and CEO of Appnovation explains, the odyssey is only just beginning: 
"When I started this company in 2007, as a little Drupal shop, I always envisaged growth, but even I could not have predicted such significant strides in just 10 years. Our success is down to the unerring endeavor of our employees around the globe, our focus on innovation, and our willingness to both shape and contribute to the ever changing digital landscape"
Clearly, Arnold and his team see the first decade as a springboard, not a laurel on which they can rest:
"With offices in North America, Europe and Asia, and over 250 employees around the world, our ten year anniversary offers much to celebrate. That said, our commitment to ongoing innovation, delivering digital strategies and solutions, and the drive to expand our global presence, when the celebration is over, the hard work continues..." 
Naturally, the Appnovation family will be celebrating this propitious milestone around the globe, with offices across North America, Europe and Asia hosting their own gatherings, and toasting the success that brought the company here, while looking ahead to many more years of booming business.
With a large new HQ in Vancouver, Appnovation is starting their second decade of business in far greater surrounds than their first, as one would expect.
About Appnovation
Appnovation is a global Digital Solutions and Managed Services provider, delivering strategy, application development and enterprise integration on leading open technologies. Appnovation's in-house experts strategize, build, and deploy high-performing, secure digital experiences across many industries, while also offering a wide range of creative capabilities, with 24/7 support and maintenance.
The firm boasts an impressive, cross-industry client roster ranging from Start-Ups to Fortune 500, government entities, nonprofit organizations and beyond. Since its inception in 2007, Appnovation has worked with hundreds of clients, delivering thousands of projects, achieving international recognition for development, innovations, and business success.
Open Digital Delivered. Visit appnovation.com today.
Media Contact:
Tim Welsch
timw(at)appnovation(dot)com
http://www.appnovation.com