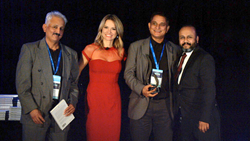 "We are pleased to receive this honor from Edcast, and are excited for the recognition, that speaks to the quality of the entire iTexico team," said iTexico CEO Anurag Kumar
AUSTIN, TX (PRWEB) September 05, 2017
iTexico -- a technology firm focused on providing dedicated software development teams-as-a-service for Mobile, Web, Fullstack, API, Database and Cloud -- has been honored as an Innovation Award winner at the Future Learning 2020 Summit, going on this week in Silicon Valley.
The award was bestowed by EdCast, a global technology training firm with a worldwide services footprint. At this year's Future Learning 2020 Summit, the Innovation Awards gala will honor individuals and businesses making impactful changes to the corporate learning industry. Award winners were selected based on the people and processes these organizations used to address key learning and knowledge-sharing challenges, how their respective solutions were implemented, and the measurable outcomes of their efforts.
"We are pleased to receive this honor from Edcast, and are excited for the recognition, that speaks to the quality of the entire iTexico team," said iTexico CEO Anurag Kumar. "As a learning organization, the Edcast platform provides us an integrated way to manage education and training for all our employees. It allows us to target relevant content to our team members on all devices and at their convenience, while giving full dashboard access to our managers about areas of improvement."
The mobility and convenience of Edcast's offerings is particularly helpful to iTexico, which uses a unique "nearshoring" service model, with operations in both Austin, TX, and in Mexico, to foster improved outcomes and expedited delivery of apps for the company's clients. iTexico's Mexico-based operations offer proximity and time zone advantages, growing technology talent capacity, and greater cultural alignment, than through more off-shore resources around the globe.
"We are thrilled at the growing interest in our Future Learning 2020 Summit and in this year's Innovation Awards gala," said Karl Mehta, Founder and CEO of EdCast. "We are honored to welcome many of the world's visionary learning leaders and discussing the most important challenges in the corporate learning space."
About iTexico
iTexico is devoted to providing dedicated software development for Mobile, Web, and Cloud. We provide end-to-end design, development, testing, and support services by leveraging an innovative nearshore teams-as-a-service model. With its headquarters in Austin, TX, as well as a wholly-owned software development and delivery center in Guadalajara and Aguascalientes, Mexico, iTexico has experienced significant growth every year for the last 6 years and maintains strong development partnerships with many startup, growth, and large technology-driven companies, including Carbon Black, CHI, ESRI, IBM, and Microsoft. For more information, visit http://www.itexico.com.
About EdCast
EdCast's award-winning Knowledge Cloud uses artificial intelligence, machine learning and analytics to weave together internal content, expert insights, and millions of external resources. The result is an easy-to-use, distributed personalized knowledge discovery platform. EdCast's solutions, including its Learning Experience Platform (LXP) and SalesU suite of sales enablement tools, are now being used by more than 50 global companies, including GE, HPE, Dell EMC and Accenture. EdCast's executive team has a track record of building large-scale transformational technology solutions and is passionate about enhancing enterprise knowledge-sharing, training and learning experiences for organizations around the world.