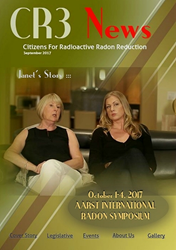 "I thought only people who smoked got lung cancer."
WATERLOO, ILLINOIS (PRWEB) September 07, 2017
Citizens for Radioactive Radon Reduction announced the September issue of CR3 News Magazine; published with a special focus on RADON, the affect it's having on society as a whole and on the "fight" to encourage people to test "early".
CR3 News is a unique publication that focuses on the seriousness of radioactive radon gas exposure, the actions being taken to help prevent radon-related lung cancer, the efforts of the radon industry to set standards of performance for radon measurement and mitigation professionals, and stories of lung cancer advocates and their efforts to make a difference and help save lives with radon reduction.
"Finding a magazine for the people, dedicated to all of the radon industry is unusual," says Gloria Linnertz, Director of Citizens for Radioactive Radon Reduction. "There are radon journals, newsletters from different industry organizations and magazines on environmental issues, but nothing in print that the person with questions about the industry can read and get all the information in one place. We believe the time is right to show people that the radon industry is serious about this fight."
September Issue: CR3 News Magazine ( https://view.joomag.com/2017-citizens-for-radioactive-radon-reduction-news-september-issue/0250299001502216669?short )