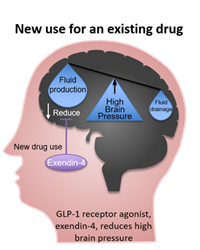 San Francisco, CA (PRWEB) September 07, 2017
Research led by the University of Birmingham, UK, published in Science Translational Medicine, shows that a GLP-1 receptor agonist drug, Exenatide, currently used to treat patients with Type II diabetes could be repurposed to treat raised brain pressure (1).
Raised brain pressure is common in emergency situations such as traumatic brain injury, hydrocephalus and stroke, and is also the cardinal feature of Idiopathic Intracranial Hypertension (IIH), which causes permanent vision loss in 25% of people (2) and additionally disabling daily headaches due to the severely raised brain pressure. The condition effects 20 per 100,000 obese women and incidence is rising in line with the global obesity epidemic.
The Birmingham researchers examined whether the GPL-1 receptor agonist exendin-4 could reduce intracranial pressure in an animal model of raised brain pressure, and found that exendin-4 reduces intracranial pressure both rapidly and dramatically.
Corresponding author Dr Alexandra Sinclair, of the University of Birmingham's Institute of Metabolism and Systems Research, said: "Our findings show that exendin-4 reduces brain pressure within 10 minutes of dosing and by 44%, which is a greater extent than anything else we've tested before, and the treatment effects last at least 24 hours. There are currently no bespoke treatments for IIH, which mostly affects women in their 20s and 30s. The primary treatment in IIH is acetazolamide, but many patients deteriorate and remain unwell despite treatment and the drug also has such severe side effects that our previous trials have shown that 48 per cent of patients stop taking it."
The Birmingham team will be moving forward rapidly to clinical trials.
Alexandra Sinclair commented: "Exenatide is a well-tolerated and widely used drug for the treatment of diabetes which means that these findings are rapidly translatable into a novel treatment strategy for IIH. They are also potentially game-changing for other conditions featuring raised brain pressure including stroke and brain trauma."
Exenatide, a synthetic version of exendin-4, has received Orphan Drug Designation for the treatment of Idiopathic Intracranial Hypertension from the European Medicines Authority and the US Food & Drug Administration (4,5).
About Idiopathic Intracranial Hypertension

Idiopathic Intracranial Hypertension is a rare chronic condition, with an incidence in the general population of 1-2 per 100,000, rising to 20 per 100,000 in women who are obese. However the incidence is rising dramatically in line with the global obesity epidemic.
IIH is caused by raised intracranial pressure, resulting in chronic disabling daily headaches and optic nerve swelling leading to blindness in 25%
The University of Birmingham has entered into an option agreement with BioDome Partners LLC, a California based incubator, under which BioDome Partners has the exclusive right to secure an exclusive global license for technology and IP of The University pertaining to the use of Exenatide for the treatment of IIH as well as other indications.
Media enquiries
Dr Alexandra Sinclair is available for interview.
For further editorial information or to arrange a media interview, contact Ruth Ashton, Reputation and Communications Development Manager, University of Birmingham, at r.c.ashton(at)bham.ac.uk, +44 (0)121 414 8646, or +44 (0) 7989 558 041.
Investors
For further information about investment contact:
Artin Asadourian, Managing Partner, BioDome Partners, LLC at: artin(at)biodomepartners.com , or 818-288-6200.
Dr Jonathan Watkins, Head of IP Services, University of Birmingham, at j.watkins.1(at)bham.ac.uk, or +44 (0)121 414 9090.
About the University of Birmingham
The University of Birmingham is ranked amongst the world's top 100 institutions. Its work brings people from across the world to Birmingham, including researchers, teachers and more than 5,000 international students from over 150 countries.
About BioDome Partners, LLC
BioDome Partners, LLC, headquartered in San Francisco CA, is a privately held biotech incubator partnering with leading research institutions and inventors to catalyze innovative new business ventures. BioDome Partners focuses on identifying novel break through therapies that can help serve markets with significant unmet needs.
References:
1. Botfield et al (2017). Glucagon-like peptide-1 receptor agonists as a therapeutic to reduce intracranial pressure. Science Translational Medicine.
2. Markey et al (2016). Understanding idiopathic intracranial hypertension: mechanisms, management, and future directions. Lancet Neurol 15(1): 78-91.
3. From: https://nei.nih.gov/health/iih/intracranial, accessed 14 August 2017
4. European Medicines Agency, EU/3/16/1629, accessed 14 August 2017
5. U.S. FDA, Orphan Drug Designations and Approvals, accessed 14 August 2017