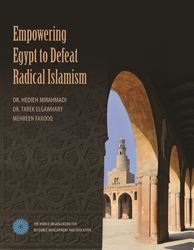 Washington, D.C. (PRWEB) September 06, 2017
On September 7, 2017, WORDE launches, "Empowering Egypt to Defeat Radical Islamism," an in-depth study of the current realities of religious networks in Egypt and their ability to counter extremism in a way that has global impact. The launch for the report will take place at the National Press Club from 12:00 to 2:00 pm in the First Amendment Lounge (529 14th St NW, 13th floor, Washington, DC 20045). It is a private by invitation-only event, however it is open to the media.
The event will feature the report's authors, along with special guest, Ambassador Alberto Fernandez, President of the Middle East Broadcasting Networks.
WORDE's timely report comes as the U.S. ramps up counterterrorism operations abroad. It provides an extensive overview of Egypt's religious landscape and explores normative religious networks' efforts to push back against ISIS – from publishing digital magazines, to setting up anti-extremist kiosks in Cairo's metro. The authors acknowledge that these pilot projects will require strengthening, and suggest that the U.S. can do more to empower scholars in the soft-power fight. Considering the intellectual nexus between radical Islamist thought and the support for terrorism, the authors suggest the U.S. government should limit engagement of Islamists in exchange for empowering religious actors who share our values on important issues like religious freedom, freedom of association, and nonviolent solutions to social change.
The World Organization for Resource Development and Education (WORDE) is a nonprofit, educational organization whose mission is to enhance communication and understanding between communities to mitigate social and political conflict. Utilizing a research-informed foundation for programing, WORDE identifies drivers of conflict and opportunities for building strong, resilient communities. WORDE's global team of specialists provide governmental and non-governmental clients with needs assessments, strategic guidance, training, and analysis to improve public policy and programming to advance peace and security.
http://www.worde.org