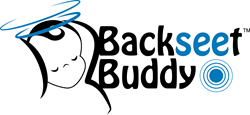 "The beauty of this device is that you are relying on a habit people have already formed, checking their phone."
Hamilton, OH (PRWEB) September 05, 2017
Inventor and Registered Nurse Maria Striemer recently developed and patented a car seat technology device that uses a smart phone application to prevent accidentally leaving a child in a car.
As an emergency room nurse, Striemer witnessed an incident where a child was left in a hot car which resulted in serious injury. Striemer spoke about the severity of these types of incidents that have historically led to neurological disorders and in some instances, death. She decided that something had to be done to prevent this tragedy.
"On average, 38 children die of heat-related injuries each year after being left in a hot car according to http://www.kidsandcars.org, a children's advocacy group," said Striemer. "The Backseet Buddy works as a reminder that a child is still in the car, hopefully preventing the child from being left behind," she said.
So how does the Backseet Buddy work? The device fits in car seats and utilizes beacon protocols from Apple® iBeacon™ licensed technology or Google® Eddystone™ to communicate with a smart phone or smart watch. If a caretaker is distracted and walks away from the vicinity of the child in the car seat, a push notification will pop up on their screen sounding like a text message within 45 to 60 seconds, reminding them their child is in the car. If the caretaker misses the initial notification, new notifications will be sent every 60 seconds until it is cleared.
"The beauty of this device is that you are relying on a habit people have already formed, checking their phone," Striemer said.
Key Features of Backseet Buddy

User-Friendly: The mobile app and technology works even if the app is not launched or in the background. This eliminates the likelihood of forgetting to activate the app every time the parent travels with the child. In addition, the technology does not require pairing between the iPhone and the device.
Non-Intrusive: Backseet Buddy does not interfere with the full functionality of the mobile phone. You can still stream music and go hands-free.
Low Power: The device operates on a single coin cell and is only powered when the child is in the car seat. However, even if it were constantly powered, the device can run for several years.
Safe and Secure: The device and mobile app are both based on Apple® iBeacon™ licensed technology and Google® Eddystone™ standards.
The invention System and Method to Detect the Presence of a Child in a Car Seat
was granted a US Patent 9,564,036 in February 2017. The rapid prototypes and a mobile app have demonstrated the proof-of-concept with the intent to license the technology to a company.
For more information, please visit http://www.backseetbuddy.com or contact Striemer at (513) 939-7591 or email maria(at)backseetbuddy(dot)com.
CONTACT:
Inventor Maria Striemer
(513) 939-7591
Maria(at)BackseetBuddy(dot)com