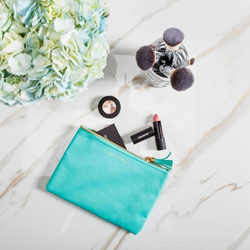 "Toxin-free, organic and clean are not just buzz words anymore," says Kelly Weston and Melanie Petschke, Crunchi co-founders.
Stuart, FL (PRWEB) September 05, 2017
Today Crunchi announced an alliance with best-selling author and beauty expert, Dawn Gallagher, as well as health and lifestyle blogger Emily Warburton-Adams. Gallagher and Warburton-Adams' will use their public platform to help educate consumers about Crunchi––a healthy, toxin-free cosmetic line dedicated to providing the best, highest performing, safe, skin care products on the market.
"Toxin-free, organic and clean are not just buzz words anymore," says Kelly Weston and Melanie Petschke, Crunchi co-founders. "Consumers are demanding and deserve safe options, so we are thrilled to have expert advocates like Dawn and Emily on board to help us spread the word that women no longer have to compromise health for beauty."
According to the latest market research from Lucintel, the global beauty care market is projected to reach $265 billion this year. With growth comes opportunity, and for some cosmetic brands like Crunchi, that means an opportunity to make a difference. Lack of regulation has permitted harmful toxic ingredients in products and brands. Chemicals like lead and formaldehyde, which have been linked to cancers and many other health concerns have been found in numerous cosmetics women use on their bodies every day.
More and more consumers are demanding transparency, efficacy, and higher safety standards from products.
"For more than twenty years I have dedicated much of my career to sharing conscious, all-natural beauty rituals with the public," said Dawn Gallagher, TV host, beauty expert and best-selling author of Natures Beauty Secrets. "This collaboration with Crunchi is another way for me to help educate women about safer options. I'm thrilled to be using my voice to spread the word about Crunchi's clean cosmetics, focused on pure ingredients. We no longer have to sacrifice safety for performance."
Crunchi is raising the bar in beauty. The products are made with a combination of safe, certified organic, and EcoCert ingredients.
"Safe and healthy products should be the standard," said Emily Warburton-Adams. "I'm excited to be part of the Crunchi movement to help make that happen by raising awareness for #CrunchiClean and #CrunchiGals."
The collaboration with beauty and health advocates Dawn Gallagher and Emily Warburton-Adams will include educational videos and social media campaigns dedicated to informing the public about clean cosmetics.
About Crunchi Cosmetics
Launched in 2016, Crunchi products are distributed across the country by hundreds of advocates who have joined the movement to promote clean cosmetics. Crunchi is a progressive line of high-performance, safe, and toxin-free cosmetics. The company has set a new standard for cosmetic safety. Crunchi's mission is to educate others about the dangers of cosmetic toxins. The company and team pride themselves on promoting cosmetic products that won't put users at risk, and in a way, that doesn't sacrifice performance. For more information visit Crunchi.com or call 888-831-3133.
About Dawn Gallagher
Dawn Gallagher began her modeling career at the age of 17. After being discovered, she immediately moved to New York City. She soon found herself gracing the covers of Italian Vogue, Italian Bazaar, and Cosmopolitan. Dawn has appeared on over 300 covers and has traveled the globe extensively. She has been featured in beauty and fashion campaigns for Clairol, L'Oreal, Coty, Clarins, Valentino and Ralph Lauren. Dawn is an on-air TV host, beauty advocate and expert, as well as a best-selling author of two beauty books. Visit dawngallagher.com
About Emily Warburton-Adams
Emily Warburton-Adams is a lifestyle blogger and health and wellness advocate. She is a London-native with a yachting background, who was cast on Bravo's hit reality TV show Below Deck in 2016. Emily took her passion for health and wellness and parlayed her yachting and reality show experience into a successful lifestyle blog. She travels the world and aligns with like-minded health and beauty brands to help make the world healthier and more beautiful place. Emily is also studying to be a health coach.
For more visit: english-emily.com