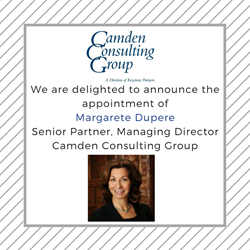 Boston, MA (PRWEB) September 06, 2017
Keystone Partners, a Boston-based career transition and leadership development firm, announced today that Margarete (Marge) Dupere has joined Camden Consulting Group, as Senior Partner and Managing Director. Marge will be responsible for overseeing strategic direction of the firm, as well as helping client organizations build their leadership capability and maximize talent to deliver business results.
"We are excited to have Marge join the Keystone Partners senior leadership team," said Ralph Roberto, President of Keystone Partners. "Having served as both a buyer of services and a consultant, Marge is deeply in tune with market needs. We are certain she will expand our business and bring more services to companies that are investing in leadership development."
Prior to joining Camden, Marge was partner and human capital practice leader for a consulting firm where she led engagements in organization assessment and development, executive coaching, senior team alignment, succession, leadership training, compensation and search. She was formerly a Senior Vice President at State Street and has held leadership roles in organization development and human resources at Analog Devices and Hay Group.
"With over 20 years of expertise, Marge has established herself as an expert in the growing human capital consulting industry, demonstrating a deep understanding of what is required of today's business leaders," said Elaine Varelas, Managing Partner at Keystone Partners. "Her diverse experience enhances Camden's ability to support organizations and individuals within a wide range of industry sectors."
"Keystone Partners and Camden Consulting Group have proven track records in providing outstanding services to develop leaders, build resiliency, and manage change within organizations," said Marge Dupere. "I look forward to working with our stellar team to serve clients, expand offerings and guide businesses that want to invest in their human capital."
Marge holds a BA degree in Psychology and Business Management and a MA in Organizational Psychology. She completed the "External Coach Intensive Program" at Columbia University in the City of New York, and was also an executive coach and facilitator at Harvard Business School's Executive Education programs. She is certified in a wide range of models and assessment instruments that help bring insight to leaders and teams.
About Camden Consulting Group
Keystone Partners provides career management support for individuals at all levels, and companies of all types and sizes. It is comprised of Keystone Associates, Essex Partners, and Camden Consulting Group. Camden Consulting Group provides focused, practical and customized leadership development and talent management services to client organizations and their employees.
About Career Partners International
Founded in 1987, Career Partners International is the leading provider of Outplacement, Career Management, Executive Coaching and Leadership Development. Employers around the world trust our local market experts to provide the best possible outcomes for employees. Keystone Partners represents CPI in the greater New England area, the Research Triangle and other areas as client needs dictate.