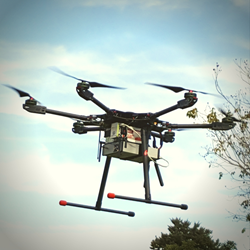 SkyHopper PRO has equipped our drone with capabilities that enable it to carry out its intended security operations...To speed up our time to market, Mobilicom came fully equipped with onsite technical support - iSTAR CEO, Nir Itzhaky
(PRWEB) September 06, 2017
Mobilicom has secured a design win with iSTAR, the drone branch of TAR Ideal Concepts, a leading international security and surveillance company. Mobilicom's SkyHopper PRO UAV communication solution has been integrated into iSTAR's new Condor drone. The Condor utilizes a proprietary detection mechanism for surveillance operations and fulfills an unmet need - by utilizing a drone to conduct security and surveillance operations, the customer reduces the manpower needed and increases efficiency by obtaining real-time video and data in hard-to-access locations.
The SkyHopper solution offers the essential features in order to carry out security operations. Among them, SkyHopper PRO is equipped with Mobilicom's proprietary encryption mechanism, with its security capabilities commended and approved by leading security forces. Furthermore, SkyHopper PRO offers an extended range of operation, enabling security personnel to be stationed remotely and receive data and video directly to their work stations, and non-line-of-sight operation for transmission and reception in obstructed areas.
The SkyHopper portfolio is expanding and will soon offer video processing capabilities as well as handheld remote viewing terminals (RVT) so that ground personnel can receive video directly to their person.
Beyond product capabilities, SkyHopper PRO offers a holistic approach in addition to a tailored communication solution, with a full hands-on support infrastructure and, with the help of our ecosystem partnerships, SkyHopper PRO offers integration consulting services to tailor your drone to the specified application, with the most relevant components such as cameras and flight controllers.
"SkyHopper PRO has equipped our drone with capabilities that enable it to carry out its intended security operations," iSTAR CEO, Nir Itzhaky commented, adding that, "To speed up our time to market, Mobilicom came fully equipped with onsite technical support to ensure the units operated as they should and for the intended purpose."
Oren Elkayam, Mobilicom CEO, stated, "One of our core competencies at Mobilicom is providing more than just a product. We pride ourselves on offering drone manufacturers with the support system they need to hit the ground running and leverage our ecosystem partnerships to recommend the best integration of all elements on the drone." Elkayam continues, "It is our mission to ensure that customers like iSTAR succeed in their respective drone applications, and this in turn secures long-term partnerships with our customers."
SkyHopper PRO Now Available for Purchase. Learn more about the SkyHopper solution for various drone applications here.